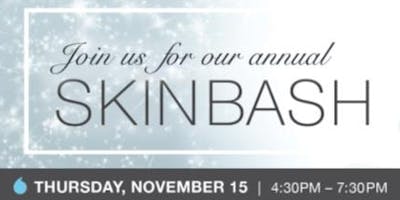 SkinSpeaks SkinBash 2018
Don't just mark your calendar, set your alarm reminders! This year's SkinBash is November 15, 2018! 
We have so much to celebrate this year, from Dr. Carney's and SkinSpeaks dermatology clinics 30-year anniversary, and the SkinSpeaks Spa M.D.'s 15-year anniversary, and new procedures and products, we don't know where to start!
The annual SkinSpeaks SkinBash is our biggest event of the year and this year is guaranteed to be the best year yet! This year we are celebrating amazing milestones at SkinSpeaks, and we want to thank all of our long-time clients, as well as those who are new to us, with even more amazing deals and giveaways. We even revamped our checkout process to help eliminate long lines!
If these anniversaries weren't enough reason to celebrate, we also want to invite you to experience our new SkinBar, exclusive to SkinSpeaks. The construction is almost complete, and we cannot wait to share this space with you. Check out our expanded product line and get all of your skincare product questions answered at the SkinBar!
PLUS, we are excited to announce the arrival of HydraFacial to SkinSpeaks. A HydraFacial treatment will give you that immediate glow that your favorite stars always have on the red carpet, and with continued treatments, will actually improve your skin's health.
If that weren't enough, help us kick off the holiday season! Get a jump start on your holiday shopping list, even if you aren't sure what they want. Hint: even gift cards will even be on sale