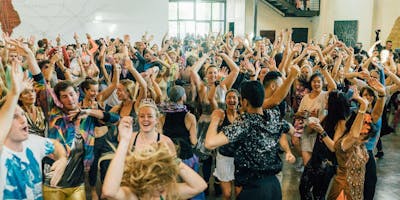 Daybreaker SF // Hip Hop Edition 2018
On Friday, November 16th, we're embracing the soul and sounds of hip hop. Meet us on the dance floor for our annual Hip Hop Edition where we'll float, pop, and crip-walk our way to an unforgettable morning.
A crew of breakdancers, beatboxers, live musicians, and other fun surprises will greet us. Tunes will be electric and magic will be aplenty.
Did you know? In 1973 — an 18 year old Jamaican-American DJ (Kool Herc) started looping instrumental breaks and emcee Coke La Rock started adding words over the beats at a house party in the Bronx. Many consider this the start of the hip hop genre. Since then, this cultural landscape continued to burst with legends that inspired us to look at life differently.
So let's get down to all those classic hits and contemporary jams we know and love. This will be one we won't soon forget. ;)

See you on the dance floor. 

We are proud to announce that this event will be climate positive, courtesy of CHOOOSE who is helping us offset more CO2 than our carbon footprint for the morning.

THE LINEUP
+ Yoga: 6 - 7am (please bring a mat!)
+ Dance Experience: 7 - 9am
+ Free kombucha, breakfast bites & more (while they last)!
+ Live Performances & Special Surprises

---
WHAT IS DAYBREAKER? 
Daybreaker is creating an entirely new genre of experience.
It starts out as a dare from your friends or an article that sparked your curiosity... and ends up as the best decision you could make to re-imagine your morning and add a dose of mischief to your life. Our lives are often so predictable, so routine — which is why we come together to wake up our senses — all of them.
At Daybreaker, we dance our faces off before work and feel gloriously healthy while doing so. We gather in community to participate in something greater than ourselves. Daybreaker is about choosing to live life differently, choosing to be happy, and choosing to pursue the best versions of ourselves. See you on the dance floor.