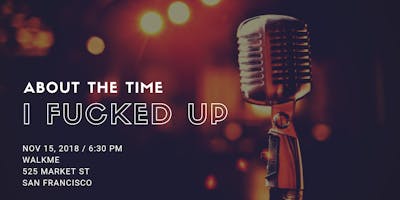 About The Time I Fucked Up

The road to success can be bumpy. About The Time I Fucked Up will feature 3 distinguished speakers who will share their hilarious mess-up stories and how it helped shape them into the successful people they are today! The story of the business that crashed and burned, the partnership deal that went sour, the product that had to be recalled...
The talent includes Ilana Golan - CEO at Golan Ventures, David Zamir - CEO and Founder at NANA.IO, and Chen Levanon - Co-Founder and CEO at SimilarTech. The panel will be moderated by Maayan Rossman - Co-Founder and CPO at Blinks.
Join us for an evening of laughs and inspiration alongside appetizers and drinks.
The event is free. RSVP is required.
#aboutthetime #eventtech #startups #tech #fuckups #networking #speakers 
*The WalkMe Digital Adoption Platform (DAP) was pioneered to make systems adapt to us. The DAP began as a platform-agnostic guidance system to simplify user experience. Responding to the needs of our customers, we have since developed new ways to identify and engage users across platforms and devices. Proof of our impact is seen in the growing number of Fortune 500 companies using WalkMe's DAP to drive higher engagement and adoption of their digital assets and our growing community of global partners delivering WalkMe's DAP to an expanding list of regions, industries and verticals.