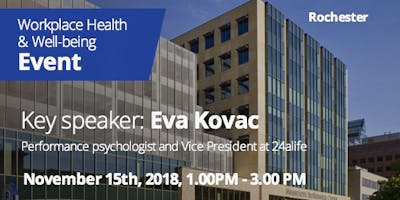 Corporate Employee Well-being event
Please join us and other Minnesota area Employee Well-being leaders for the Corporate Well-being event. This is an invitation only event intended to create an outstanding employee's performance by using scientifically validated well-being programs, developed in collaboration with Mayo Clinic.
24alifeTM is a comprehensive platform designed to deliver exclusive health and wellness solutions - including the evidence-based programs from Mayo Clinic.
Speaker:
Eva Kovac is a performance psychologist working in the field of talent management, and organizational psychology. She serves as a vice president of 24alife and leads global expert teams and program implementations. Eva will present The Mayo Clinic Diet and Mayo Clinic Resilient Mind programs. 
You will get a chance to listen a presentation about coping with stress at the workplace and how to effectively manage your weight to decrease absenteeism and health related costs in your organization.
About 24alife:
24alifeTM Corporate is a leading employee well-being management tool, offering an effective holistic approach to workplace health promotion. It establishes, measures and monitors employee well-being through support of smart technology. It offers several types of interventions, programs, and challenges, as well as analyses developed in collaboration with Mayo Clinic. According to case studies of organizations using 24alifeTM Corporate, companies experience up to 20% improvement in the following areas: decreased presenteeism and absenteeism and improved overall employee well-being.
Registration:
There is no registration fee, advanced registration is required. Space is limited.

For more details on this exciting event contact: team@24alife.com