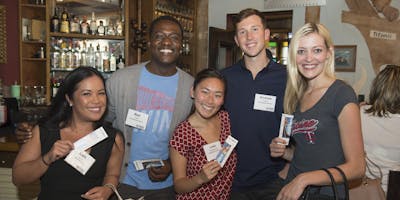 Emerging Leaders: Think + A Drink
Our Think + A Drink series is a chance for Emerging Leaders and their guests to gather in conversation with community and corporate leaders while enjoying all the Twin Cities have to offer.
We're breaking new ground this time around and heading to a Timberwolves game!
Join forces with Emerging Leaders as we network at Kieran's Irish Pub. Then head to Target Center to see the Wolves take on the New Orleans Pelicans at 7pm.
Your $30 donation is the sweetest deal in town: it includes a drink ticket and ample apps from Kieran's along with a free ticket to the game. Better yet -- thanks to the generosity of our sponsor, Land O'Lakes, 100% of this ticket price is a donation to Greater Twin Cities United Way.
Bring a curious mind and an appetite for new connections. We'll provide the rest.
5pm: Networking, beverages, bites
6pm: Brief program featuring community leaders and philanthropy experts
6:30: Networking continues
7pm: Wolves vs Pelicans @ Target Center
Our special guests for the evening will help us explore how United Way embraces equity and fairness in philanthropy through our Culturally Powered Communities initiative.
Jessica K. Rogers, Executive Director, Connections to Independence. Jessica brings a unique combination of corporate, nonprofit and independent consulting experience to Connections to Independence. She has positively impacted youth and families in Minneapolis through various community programs she has led over the last 15 years. As a CPC grant recipient, Jessica will share insights about how this unique funding has affected outcomes at Connections to Independence.
Leslie Wright, Director of Community Engagement, Greater Twin Cities United Way. Leslie brings a wealth of sales and leadership experience to her role as a champion of equity. Leslie works to ensure that United Way creates robust and innovative investment outside of traditional grantmaking while serving as a key advocate for our nonprofit partners. 
PLEASE NOTE: If you'd like to bring a guest, please select 2 tickets and add your guest's information on the registration form. You can also add your guest's information later, or contact Jeffrey.Moores@GTCUW.org directly.
We look forward to seeing you soon!
-The Emerging Leaders Steering Committee
---
By entering this event, I hereby authorize Greater Twin Cities United Way permission to use my image and likeness for any and all media, world wide in perpetuity such as but not limited to use in stories, photographs and video, including the editing, reproduction  or reproduction of parts thereof for publication of said stories, photographs and film, in  social media, online video, television, website and printed promotional materials distributed or published for or on behalf of United Way. I waive all claims for any compensation or damages for such use of said stories, photographs and video explicitly.