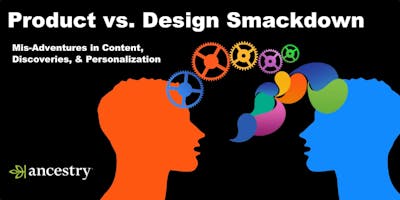 An Ancestry Special Event: Product vs. Design Smackdown
Ancestry invites you to a special event to learn from our product and design leaders! Seating is limited - register today!
Product vs. Design Smackdown
Mis-Adventures in Content, Discoveries, & Personalization
Come hear Ancestry leaders in product and design debate how different disciplines approach creating discovery cycles, the role of rich content, and what personalization really means. Marcelo Marer and David Sanchez will pull from over 50 years of experience leading product and design organizations across Amazon, BBC, Intel, Oath, and Microsoft to share highlights and lowlights. They will also talk about the pitfalls and competitive advantages of building teams that thrive on diversity to deliver transcendent software experiences.
Event Speakers:


David Sanchez, VP of Product


Marcelo Marer, VP of Design


Location:



Ancestry - San Francisco
153 Townsend Street
San Francisco, CA 94107


Please follow signage in lobby to 7th floor


Schedule:



Snacks, Drinks, & Networking: 5:30 pm to 6:30 pm



Presentation: 6:30 pm to 7:30 pm



Q & A: 7:30 pm to 8:00 pm