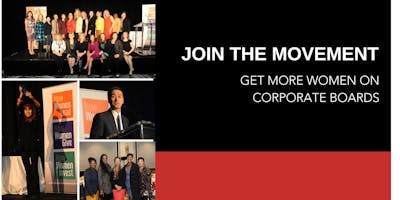 2020 Women on Boards Bay Area
Throughout 2018, How Women Lead will host activities, trainings, and intimate gatherings, and share board opportunities, culminating in a year-end celebration highlighting progress in the Bay Area and nationally. We encourage you to join in early and help build momentum for this movement with your support!

2020 Women on Boards is a national effort to increase the percentage of women on U.S. company boards to 20% or greater by 2020. This goal was exceeded three years early when we reached 20.8% for the first time in 2017. There is still a long way to go until parity and we are committed to keeping the pressure up.

How Women Lead is proud to host the 2020 Women on Boards Bay Area conversation for the second year in a row. How Women Lead champions diverse women's voices, propelling women leaders forward. They steward a supportive community of influential women across all sectors, creating a platform for thought leadership, collaboration, and solutions.


2018 Bay Area Leadership Committee Chairs



Julie Abrams, CEO & Chair, How Women Lead; Advisory Board, LENDonate; Governance Chair, Women's Funding Network



Christina Bui, Chief Revenue Officer/SVP Business Development, Kranz & Associates 



Mary Jo Potter, Founder & CEO, Healthcare Angels; Board Member, NACD



Vicki Tisdale,

Enterprise Research Services, Qualtrics






Cindy Worthington, Senior Vice President Business Development, Wells Fargo Bank



2018 Bay Area Leadership Committee





Michelle Barker, PMP,

Director of Applications, Marin General Hospital








Amii Barnard-Bahn

, Principal, Barnard-Bahn Consulting & Coaching








Carol Benz

, Managing Principal & COO, B|O|S








Laura Bushnell

, Partner, King & Spalding LLP








Michelle Chao

, Vice President, Bertram Capital








Lillian Chen,

Partner, Moss Adams








Petra Chequer,

VP, People Solutions at IMPACT Group & Director Alliance of Chief Executives & Partner in YOUR Leadership Journey








Christy Consler

, CEO & Founder, Sustainable Leadership Advisors, Inc.








Alison Davis,

Board Director, Fiserv, Ooma, Royal Bank of Scotland, Unisys








Elizabeth Fastiggi

, VP Business Development, Farmers Business Network, Inc.








Randi Feigin

, President and CFO, Arx Pax, Inc.








Jenny Flores,

Head of Corporate Social Responsibility, Bank of the West








Marina Gracias,

General Counsel, Varo Money




Cecilia Herbert






Jeff Hodge

, Partner, Bialla Partners








Kristin Hull

, Founder and CEO, Nia Impact Capital, LLC








Elizabeth Hutt Pollard

, Executive Chair, Applied Silver








Summer Ireland

, Director, CrossCountry Consulting








Sandeep Johri

, CEO, Tricentis








Courtney Jones,

VP - Investments, UBS








Elli Kaplan

, CEO, Neurotrack








Courteney Keatinge

, Director, Environmental, Social & Governance Research, Glass Lewis








Jennifer Kenny,

CEO, jenniferkenny.com; Speaker, Mentor, Trainer, Strategic Facilitator








Joan Kiekhaefer

, Senior Vice President, US Bank








Rene Kim

, SVP, Charles Schwab








Nicole Kontrabecki

, Deputy General Counsel, Prosper








Reena Krishnan

, Vice President - Global Sales, TMF Group








Jing Liao

, Chief Human Resources Officer, SoFi








Jamie Lin

, PMO Manager, VP, Bank of the West








Jen McClure

, Steering Committee, Stanford Women on Boards






​

Katera Mujadidi,

Investor Relations Manager, Northgate Capital








Wendi Norris

, Owner, Gallery Wendi Norris








Laura Provenzale,

North Point Advisors








Kimberly Pugh

, Managing Director, YurPath Solutions; Founder, Leaders in Customer Experience








Delia Sabau,

Senior Portfolio Manager, Menta Capital LLC








Tet Salva,

Founder, MomWarrior™








Amy Schioldager

, Finance Executive, Board Member & Strategic Advisor








Hitesh Shah,

Relationship Manager, Director of Business Development, BDO








Nancy Sheppard

, Founder & CEO, Women2Boards; Strategic Advisor, The Athena Alliance








Steven Singer, CPA,

Partner, GREENSTEIN, ROGOFF, OLSEN & CO., LLP

Landon Steele,

President and Co-Founder, SNPitty








Ron Storn

, Chief People Officer, Zume, Inc.








Lisa Suennen,

Managing Partner of Venture Valkyrie, LLC








Michelle Waite

, Chief Marketing Officer, Verbhouse








Leigh Wasson

, Senior Director, BNY Mellon Wealth Management








Gwen Wong

, EVP & Chief Credit Officer, Trans Pacific National Bank








Amy Yang

, Director, Citi








Shelley Yim

, Senior Vice President, Aon