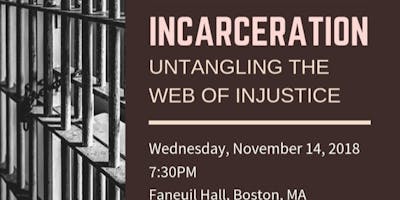 Incarceration: Untangling the Web of Injustice
A community program, free and open to the public.

Doors open at 6:45pm
Performance:
Karen Yamaguchi and Brett Fairchild, Berklee College of Music sophomores. will perform their original piece, WAKE UP, an acoustic performance with vocals - and will be introduced by Gretchen Shae Moore who has created a course on mass incarceration that she teaches at Berklee.
Speakers: 
Cherise Fanno Burdeen
Chief Executive Officer, Pretrial Justice Institute
Marc A. Levin

Vice President of Criminal Justice, Texas Public Policy Foundation
Moderator:
Middlesex Sheriff Peter J. Koutoujian
President, Massachusetts Sheriffs' Association
Founding Member, Law Enforcement Leaders to Reduce Crime & Incarceration
The Najarian Lecture on Human Rights, a public program of Armenian Heritage Park on The Greenway,
is endowed by K. George and Carolann S. Najarian, M.D. in honor of   Dr. Najarian's father,
Mr. Avedis Albert Abrahamian as "he taught so many about the need to pay attention, spot injustice
and speak out wherever and whenever it occurs".