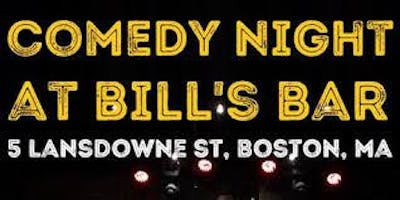 Mass Professional Networking & AIMC Business Solutions - Appreciation Event & Celebration
2018 has been a banner year for AIMC Business Solutions and Mass Professional Networking!
We have had over a thousand attendees to our networking events this year and have had ten different vendors provide their amazing products & services.   We met a lot of new faces and havre made some lasting professional connections! 
We like to celebrate our success with you on Wednesday, November 14th from 6:30pm-9pm at Bill's Bar & Lounge in Boston.   This will be an invitation only/ complementary event for our vendors, hosts and event attendees who have been to multiple events.
We will meet at Bill's Bar around 6:30pm and there will be a comedy show starting at 7pm at the Main Stage.  So let's mingle and laugh and enjoy our success together!
Enjoy specialty cocktails, $2 Miller High Life on draft, jello shots too from Bill's Bar.
Please RSVP if you like to attend so we have a count for our event.
See you on November 14th!