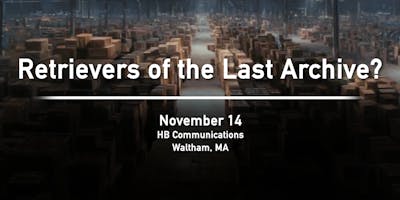 BAVUG 2018 Nov: Retrievers of the Last Archive?
Archiving, it's not the sexiest of topics for a meeting, but it is an absolute must for anyone working in post in the 21st century.
When everything is 1's and 0's on reusable cards, how do you preserve it for the future? Do you keep all the raw material? or just what ended up in the final project? How do you store it? Do you rely on external hard drives? Cloud services? LTO tapes? What are LTO tapes? How long do you keep it? Who is responsible for keeping the backup?
Archiving is the elephant in the room that no one is talking about. We all know we should be doing it, but many of us really don't know what the "best" way is. Are you happy with your method of archiving? or are you just doing something "for now" until you have a chance to implement a better solution?
We hope that we'll be able to answer some of these questions at the November BAVUG meeting at HB Communications in Waltham. We're trying to line up a few speakers to discuss different backup solution approaches. As of right now, Mark Masterson of SpectraLogic has agreed to join us and we're hoping for at least one more, maybe two. If you know of someone who might be able to compliment or counter Mark, please let us know. It would be good to get a few different viewpoints as with most things in post-production, there is not a single answer. 
We hope you can join us.
Please read all of the info below before registering.
Registration for this event is available until 12pm the day of the event (or until we reach capacity)
All payments and registrations must occur online prior to 12pm the day of the event. No financial transactions will take place at the check-in.
Doors open for admission at 6pm. Please allow us time to finish getting setup before arriving.
Meeting/Presentations will begin around 7pm
Please do not register more than once, space is limited at our meetings and we want to ensure that everyone who is interested in attending has the opportunity to register. 
Those who have an active "member" subscription will receive 2 additional raffle tickets at the door, but please be prepared to show proof of your active subscription, we do not have access to the member subscription database at the meetings. As always, you must be present to win raffle prizes.
Registering for BAVUG events automatically adds you to our general mailing list so that we can keep you updated on this event and also future events, you may unsubscribe from the mailing list at any time. By attending this event, you grant the Boston Avid Users Group, our sponsors and any other affiliated parties consent to photograph and/or record your voice for use on, but not limited to, social media networks, video hosting sites and any other platform available now or in the future in perpetuity. You further acknowledge that the term "photograph" used herein encompasses both still photographs and motion picture footage. 

The registration list for this meeting may be shared with BAVUG meeting sponsors and/or hosts.

This meeting is made possible from financial support by individual ticket sales, BAVUG Members, HB Communications and Blackmagic Design.
Have a question about this event or something in general? Get in touch at contactus@bavug.org