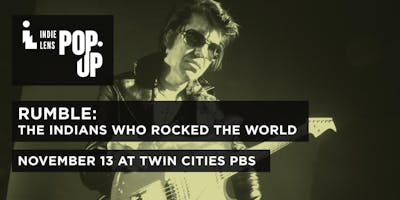 Indie Lens Pop-Up: Rumble – The Indians Who Rocked the World
Make friends, share stories, and join the conversation. Indie Lens Pop-Up is a neighborhood series that brings people together for film screenings and community-driven conversations.
Featuring documentaries seen on the PBS series Independent Lens, Indie Lens Pop-Up draws local residents, leaders, and organizations together to discuss what matters most, from newsworthy topics to family and relationships.
On November 13 we are screening Rumble: The Indians Who Rocked the World with a performance by the Native Blues band, Bluedog to follow.

RUMBLE: The Indians Who Rocked the World is an electrifying look at the Native American influence in popular music — despite attempts to ban, censor and erase Indian culture. The film reveals how early pioneers of the blues and jazz had Native American roots, and as the folk-rock era took hold in the '60s and '70s, Native Americans such as Peter La Farge and Buffy Sainte-Marie helped to define its evolution, while Native guitarists and drummers such as Link Wray, Jimi Hendrix, Jesse Ed Davis, and many more forever changed the trajectory of rock and roll. Click here to learn more about Independent Lens.