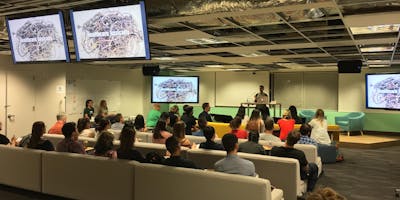 Design for Healthcare: "Bridging the Gap" Lightning Talks
As expert problem solvers, designers are often called upon to bridge gaps—like between manual and automated processes, or between the engineers who build tools and the users they build them for, or between emerging technologies and archaic ones (did someone say "fax"?). Bridging gaps is especially challenging in a space as complex as healthcare; so many disparate pieces must align for the larger system to work and CAN often have potentially dire consequences if they don't. But when designers tackle bridging these gaps, the story is often worth sharing!
In our final event of 2018, Design for Healthcare will host an evening of lightning talks on the topic of "Bridging the Gap." We'll be accepting submissions on your interpretations of this topic prior to the event (more info below) and selecting a handful to headline as presenters at the event. After presentations, we'll open the floor to questions and mingling. We hope this format will serve as an opportunity for members of the Design for Healthcare group to engage with this event in a whole new way.
The format for a lightning talk allows each presenter to create 20 slides that automatically advance every 25 seconds, making for an exciting ~8.5 minute presentation. Read more about them here.
Light food and refreshments will be provided.
SUBMISSION INSTRUCTIONS
To apply to give a lightning talk, fill out this quick survey.
SCHEDULE
6:00pm - Doors open
6:30pm - Presentations begin [Lineup TBA]
7:30pm - Q&A and mingling
8:00pm - We'll end with quick shout outs for job openings.
---
GETTING TO THE EVENT
MUNI/BART
We are conveniently located near the Muni/BART lines at the Powell Street Station. From the Caltrain station, you may take the 30/45 lines up to 3rd & Stevenson, with a short walk up to 4th Street.
PARKING
Ellis O'Farrell Garage - entrance on O'Farrell 123 O'Farrell Street San Francisco, CA 94102 (rates vary starting from $2-$3.50/hourly)
SFMTA Fifth & Mission Parking Garage - entrance on Mission Street 833 Mission Street San Francisco, CA 94103 (rates vary starting from $2-$3.50/hourly)