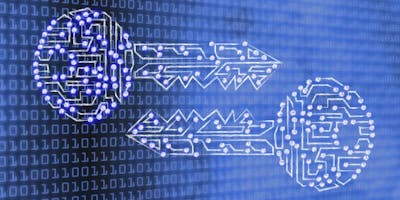 Beyond Cryptography Theater -- with Hands-On Training
Abstract:

Many products scramble data in minor ways to make it look encrypted but don't actually protect secrets from serious attackers. Examples are security theater in Windows, Android apps, Web browsers, and Web apps along with good examples of proper encryption in similar use cases. Developers need to do better and managers need to expect more. Both of those improvements are achievable with just a little more education.


Hands-on portion:

Participants will compete individually or in teams to solve obfuscation and encryption challenges with a live CTF-style scoreboard. No additional computer equipment or application is required beyond a Web browser because everything you need is in the cloud.
Schedule: 
Doors open at 4 pm
Registration ends at 4:10 pm
4:10 - 4:40 pm Presentation
4:40 - 5:30 pm CTF
5:30 - 6:00 pm Networking
Event ends at 6 pm.
Requirements: 
For the hands-on portion, participants will need a device that can connect to the campus WiFi and provide their own back up power source. All technical levels are welcome to try the CTF in teams or individually. 
Speaker Bio: 
Sam Bowne is a CNIT/Cybersecurity Instructor at City College of San Francisco since 2000. He has given talks and hands-on workshops at DEFCON, HOPE, Diana Initiative, BayThreat, Pacific Hackers Con, CactusCon, RSA, B-SidesSF, B-SidesLV, and many other cons. He has a PhD, CISSP and a lot of very interesting T-shirts. Follow Sam on Twitter @sambowne. 
Food and beverages will be provided. 
*** Event will be recorded and all training materials will be provided after the event.
Please respect attendees and guest speaker's rights to privacy and from publication, unless express permission is granted by the individual. 
FAQs
What are my transportation/parking options for getting to and from the event?
Muni 29/49/54/K and BART - Balboa Park are located nearby.
Visitor parking is available on Phelan Avenue in the Student Parking Lot. See the map for more information. There is a fee to park in the Student Parking Lot. Street parking is free. For more info on parking on campus: https://www.ccsf.edu/en/about-city-college/administration/police_services/parking_info.html
Parking Lot Map: https://www.ccsf.edu/Info/Map/Ocean/parking.pdf
How can I contact the organizer with any questions?
Email us at ccsfcyberclub@mail.ccsf.edu.