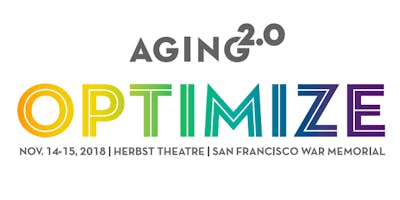 2018 Aging2.0 OPTIMIZE Conference
If you are interested in the intersection of innovation and aging, Aging2.0 OPTIMIZE is the can't-miss conference of the year. 
Taking place in the iconic Herbst Theater at the War Memorial Building, OPTIMIZE will feature megatrend keynotes, market insights from the c-suite, pitches from carefully curated startups who are in-market with traction, exclusive networking opportunities and an unmatched showcase of cutting-edge exhibitors from around the world. 
Are you: 


A forward-leaning senior care provider looking to connect with technology innovators (large and small) and like-minded senior care providers? 


A payor or risk-bearing provider looking for solutions to help improve outcomes and decrease the cost of care for older adults? 


A large corporate looking to learn more about older consumers, tap into the senior care industry, or identify startups that are complementary to your innovation strategy? 


A startup, looking to connect with seniors, senior care operators and fellow entrepreneurs focused on serving this market? 


An investor looking to find investment opportunities and meet the movers and shakers in senior care industry? 


If so, you can't miss the 2018 Aging2.0 OPTIMIZE Conference! 
---
WHEN: 
November 14-15, 2018
WHERE: 
San Francisco War Memorial | Herbst Theatre (401 Van Ness Ave. San Francisco, CA)
AGENDA:
Hear from industry leaders embracing new models of care and find partners with proven solutions to the biggest challenges and opportunities unfolding in post-acute and senior care. Check out the agenda on the conference website at aging2.com/optimize
SPONSORSHIP: 
Increase your brand awareness and be recognized as a leader in the space. Find out about sponsorship opportunities by clicking here. 

EXHIBITORS: 
Elevate your brand visibility among key industry influencers with an Exhibit Table at OPTIMIZE. Learn about Exhibiting by clicking here.
CANCELLATION POLICY: 
6/16 - 8/15: Cancellations are subject to a full refund minus a $50 processing fee
8/16 - 9/15: Cancellations are subject to a full refund minus a $100 processing fee
9/16 - 10:14: Cancellations are subject to a full refund minus a $150 processing fee
Sorry, no refund is available for cancellations made on or after 10/15/18, but registration transfers can be made with no additional fee until 10/31. Transfers made after 10/31 will incur a $25 transfer fee.
---
Disclaimers: By registering for, or attending, this event, you are agreeing to the following:
1. Aging2.0 may take photos, videos and/or audio recordings during the conference. By attending OPTIMIZE, you grant Aging2.0 the right and permission to use, publish and republish photographs, video or audio of you or images in which you may be included, in whole, part or composite, in any printed or digital matter or media for any legal purpose; and to use your name in conjunction if Aging2.0 so chooses. If you elect to upload photos to the Aging2.0 OPTIMIZE conference mobile app, you agree Aging2.0 may use uploaded files in Aging2.0 materials related to OPTIMIZE without compensation or attribution. By registering for the conference you discharge Aging2.0 from any and all claims and liabilities arising out of or in connection with the use of photographs, images or information.
2. The organizers of this event, Aging2.0, and any of their employees, volunteers, members and representatives are not responsible for any injury, loss or damage of any kind sustained by any person while participating in this event.