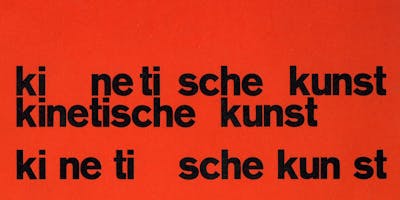 The Graphic Vocabulary of Modern Kinetic Typography with Greg D'Onofrio
This talk will explore the origins, evolution and influences of modern kinetic typography by examining the designs of the European avant-garde, the visual metaphors of America's midcentury Modernists, the controlled clarity of the Swiss and the innovative language that popularized the International Typographic Style and beyond. We'll uncover the brightest examples to help classify the countless possibilities and techniques including: fragmentation, transparency, vibration, predictability, uniformity, rhythm, abstraction, repetition, variation, distortion, sequentially, diffusion, episodicity and more. This talk will conclude with looking at how this means of visual expression has influenced and shaped endless contemporary opportunities in the digital era.
Greg D'Onofrio is a designer, educator, and co-founder of Kind Company and Display, Graphic Design Collection. Greg has curated, lectured, and authored essays on twentieth-century American, Italian and Swiss modern graphic design history. Emphasizing the work of lesser-known designers or the lesser-known work of well-known designers, he has authored essays for subjects including: Morton and Millie Goldsholl, Pirelli Publicity 1955–67, The American Revolution Bicentennial Symbol, Elaine Lustig Cohen, The U.S. Department of Labor's Graphic Standards Manual and Lester Beall's Connecticut General Identity Program. Greg teaches the History of Graphic Design at the School of Visual Arts and Cooper Union in New York City. With Steven Heller, he is the author of The Moderns: Midcentury American Graphic Design (Abrams, 2017).