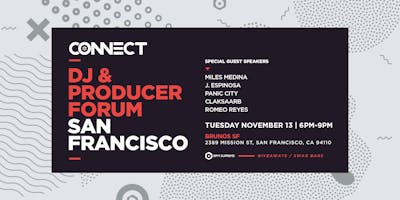 BPM Supreme CONNECT: San Francisco
Calling all DJs and Producers in the San Francisco area. BPM Supreme CONNECT is coming to your town on Tuesday, November 13th!
** MUST RSVP **
Info:
Reserve your seat for a night of networking, DJ discussion, Giveaways, Open Turntables, Special Guests & more!
The DJ & Producer Forum will feature a Q&A session with some of the industry's leading DJs and producers including 2017 Goldie Awards winner Miles Medina, 2018 Red Bull 3Style USA Champion J. Espinosa, club DJ & music producer Panic City, and more.
Special Guests:
Time: 6:00 PM to 9:00 PM
Location:
Bruno's SF
2389 Mission Street
San Francisco, CA 94110