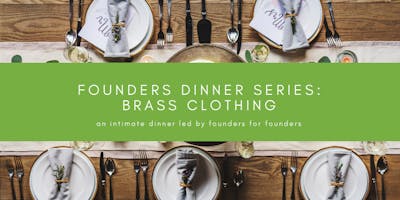 Founders Dinner Series: Brass Clothing
***Open to founders and co-founders only***
***Only 15 spots available, ticket includes a full dinner (more details to come)***
Join us for an evening of dinner, inspiring conversations, and learning at District Hall with 15 other startup founders. Facilitated by the founders of Brass Clothing, Jay and Katie will share their start-up journey with a focus on fashion retail. You will introduce yourself and say a few words about your start-up to the group before we move into open Q&A conversations.
Our Founders Dinner Series is designed to develop meaningful relationships between founders and build up their network to support them along their entrepreneurial journey.


About the Facilitators:
Jay Adams and Katie Demo founded Brass to simplify women's wardrobes so they can focus on things that really matter. As long-time friends who had both worked in the fashion, Jay and Katie had become frustrated with their wardrobes and the industry. They wanted sophisticated, high-quality clothing that was on par with their progressing careers but didn't want to spend time shopping or money on designer clothes. With Jay's experience working with expert apparel manufacturers and Katie's background in online fashion retail, they knew they had the skills to build the brand women were seeking.