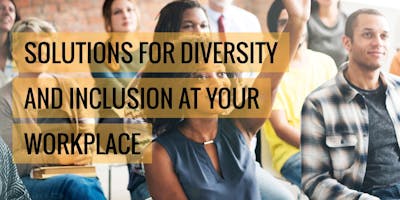 Diversity@Workplace WORKSHOP: Diversity & Inclusion Beyond the Basics November 14, 2018
Diversity & Inclusion Beyond the Basics One Day Workshop
---
This no-frills one-day workshop will be packed with information on all aspects of diversity & inclusion(D&I) for the workplace including:


How to gain "buy-in" from all levels/areas within your organization - and how to handle passive and active resistance.


What are the pitfalls to avoid (lessons-learned)?


What are the best and newest practices for Employee Resources Groups (ERGs) - and do we still need them?


How to change your process to recruit, hire, and onboard diverse talent into your organization.


How to implement cutting-edge practices of "designs" and processes to increase diversity.


How to engage ALL associates in the D&I conversation and initiatives.


How to integrate associates to promote inclusion.


How to set and measure goals for accountability.


What about intersectionality?  Diving deeper into intersectionality/unique connectivity across the Disability, LGBTQ and Re-Entry identities.


To deepen the learning and collaboration, the workshop includes "Share and Solve" for peer discussions and problem solving, and extensive in-depth Q&A to answer all your D&I questions. 
This workshop is led by Su Joun, the Principal of Diversity@Workplace Consulting Group.  She is a D&I scholar and seasoned practitioner with deep comprehensive senior business leader and entrepreneur experience in diverse industries from financial services to publishing to health care.  
Su will be joined by two experienced experts: Gwendolyn McCoy, Senior Consultant at Diversity@Workplace Consulting Group, and Sean Driscoll, the Principal of BBsquared.
---
Cost
$595 per individual attendee
$295 per additional attendee from same organization
$295 per individual attendee from non-profit organization
How can I contact the organizer with any questions?
Email INFO@DiversityatWorkplace.com or call 857-209-5077. 
Visit http://DiversityatWorkplace.com/our-services for a complete list services.