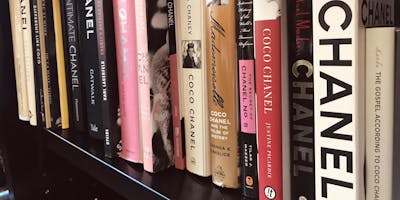 CHANEL & CHAMPAGNE
Fashion is not something that exists in dresses only.
Fashion is in the sky, in the street, fashion has to do with ideas, 
the way we live, what is happening.
      - Coco Chanel 

Join us for
CHANEL & CHAMPAGNE  
at the School of Fashion Design
Help us celebrate the unveiling of 25 newly acquired books on the life and work of famed designer Coco Chanel. Special guest Thomas Bosick, Director of the Newbury Street CHANEL boutique, also joins us to share remarks on the illustrious fashion icon.
This important addition to SFD's 700 volume fashion reference library includes some first edition books and a Chanel fashion show catalog and will be a tremendous resource for SFD student learning. Please join us for light refreshments and a first look at this amazing collection!
Space is limited, and your Eventbrite registration is required.
This event is free, but donations at the event will be gratefully accepted for the nonprofit group
Friends of the William G. Reed/Shelton Timberland Library, who offered us the book collection: 
The CHANEL book collection was acquired from a book sale of the Friends of the William G. Reed/Shelton Timberland Library in Shelton, Washington - a small community located on the shores of South Puget Sound. The group raises money for library programs that foster literacy and love of reading in children, teen and adult patrons of their library. SFD is proud to support their work!