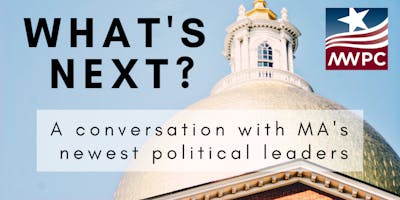 What's Next? A Conversation with MA's Up-and-Coming Political Leaders
Join the Massachusetts Women's Political Caucus, State Representative Joan Meschino, Author of POLITICO Massachusetts Playbook Stephanie Murray, and three up-and-coming political leaders to reflect on the fall 2018 midterm elections and discuss the future of Massachusetts politics. In the Year of the Woman, we're asking the important questions -  What did we learn? How do we build on this year's progress to reach gender parity in Massachusetts politics? How can we support even more women to run for office in the future? Panelists include: Nika Elugardo (D) - 15th Suffolk/Norfolk, Tram Nguyen (D) - 18th Essex, and Allison Werder (R) - 2nd Hampden.
This event will be hosted on Tuesday November 13, 2018 at the Boston Public Library's Copley Branch Rabb Auditorium from 5:30 - 7:30PM. Come meet the candidates and ask your burning questions!