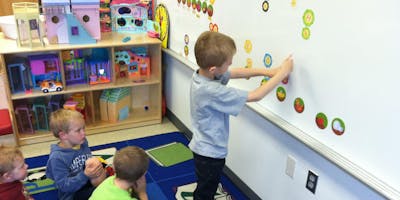 Regional PreK-3 Leadership Workshops
*** YOU MUST COMPLETE THE REGISTRATION FOR ALL DAYS YOU PLAN TO ATTEND BY ADDING A TICKET FOR EACH DAY TO YOUR REGISTRATION***
Regional PreK-3 Leadership Workshops
The Regional PreK-3 Leadership Workshops are designed for intensive, hands-on collaborative work. District-led Teams spend the day learning and discussing essential PreK-3 program elements that will support their World's Best Workforce goals and ESSA implementation.
Day 1 -November 13, 2018 10:00am to 3:00 pm - Elements of High Performing PreK-3 Systems: Community Partnerships, Transitions, and Data-Driven Improvements
Day 2 - January 22, 2019 10:00am to 3:00pm - Teaching and Instructional Quality in Your PreK-3 System:  Aligning Curriculum, Assessments and Instruction, and Ensuring High-Quality Learning Environments for ALL Students
Day 3 - March 5, 2019 10:00 am to 3:00pm - Blending and Braiding:  Maximizing your Federal, State, and Local Resources to support your PreK-3 System
Who Should Participate?
Districts and charter schools must register in teams. Since the workshops are focused on action, team members should include those who are in a position to contribute to the design, implementation, and evaluation of your PreK-3 System. Suggested team minimally consist of: early childhood administrator, elementary school principal(s), Head Start Director and community early childhood program leaders.  Day 2 teams should add a teaching and learning administrator or specialist.  Team members may be different for each session. Team leaders should decide who is best suited to participate in each session.
Hosted by Minnesota Department of Education and Southern Minnesota Initiative Foundation