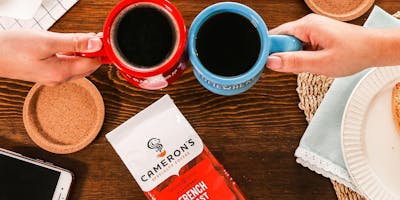 Cameron's Coffee meet up!
Cameron's Coffee Meet-up

I start every morning with a big cup of coffee! It helps me recharge, refuel and plan out the day ahead -- and, it's delicious! 

Coffee is also my way of connecting. I have built my business around drinking, sipping (and spilling) coffee. Meeting new people, pitching clients, sharing stories and learning from my peers along the way -- everything I do and more demands tons and tons of coffee!

One question I get asked a lot (all day/everyday) is: do you want to grab coffee? There is nothing I like more than connecting over a hot cup of coffee, but unfortunately running a new business takes up all of my time. I'm excited to share that I've partnered up with Cameron's Coffee to solve that problem! Join us for our first Cameron's Coffee Meet-up on October 9th! Stop by for as long as you want, with whoever you want -- bring a friend, an idea, a business problem and let's get some coffee! 

I'm really excited to be working with Cameron's Coffee because not only are they Always Smooth, Never Bitter, but they are an ethical company committed to doing the right thing! Oh, and did I mention that they are MINNESOTA-based and have been around for over 40 years?!! Come try out their unique flavors like sea salt caramel, dulce de leche, and french toast and we can hang out, IRL, like the cool kids would say! See you there!