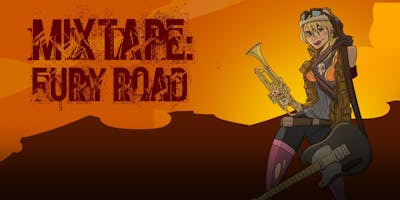 PianoFight presents Mixtape: Fury Road
In the first concert since the end of the world, apocalypse survivors gather at the only remaining venue for Mixtape: Fury Road - live music and micro-plays staged around the PianoFight bar. 
Directed by Sara Judge
Head writer Megan Cohen
Featuring SF songwriters Paul Anderson, DillBilly, Julie Dillon, Sara Judge, Johnny Nash, Kaitlyn Ortega, Tommy P., Rob Ready, Corinita Reyes, and Rana Rines. 
Immersive micro-plays by SF playwrights Kelly Anneken, Gabriel Leif Bellman, Kristy Lin Billuni, Megan Cohen, John LaMar Elison, Jeanie Ngo, Thomas Paras, and Jasmine Woods.

Theatrical performances by Janelle Aguirre, Jan Carty Marsh, Spencer Evans, John Ferreira, Jennifer McNeal, Roberta Morris,  Jasmine Obiacoro, Kaitlyn Ortega, Morgan Pelligrino, Genevieve Perdue, Rana Rines, Gabby Rose, Marshall Scott, and Zoheb Virani.
MIXTAPE Head Writer Megan Cohen is a playwright, librettist, and dramaturg based in San Francisco, CA. Called "a ruthless innovator" (SF Weekly), a "local luminary" (SF Chronicle), "funny, erudite, and poignant" (Poetry Monthly), and "One insightful and confident woman with a devilish sense of humor" (Huffington Post), she's been cited in SF Bay Guardian's "Best of the Bay" and was honored with a Theater Bay Area "Eye On" Emerging Artist award. Recent artistic partners include Berkeley Rep, The Southbank Centre in London, American Academy of Dramatic Arts in New York, and The Kennedy Center in Washington, D.C. www.megancohen.com
MIXTAPE Creator, Head Director Sara Judge is a San Francisco based Songwriter and Theater Artist. Combining two art forms that rarely have an opportunity to collaborate, she has been a leader in supporting and directing new work in Philadelphia and San Francisco for the past 15 years. In addition to producing three original runs of MIXTAPE at PianoFight, Sara recently directed a full-length reading for the SF Olympians Festival and a short opera for the SF 48 Hour Opera Festival. Her original music has been described as capturing the energy of dub hall reggae and hip-hop, but with the more intimate exchange of acoustic guitar and strings. "Really terrific! And what a voice. Of all the ladies who can belt it out--Florence + the Machine, Natalie Merchant, Neko Case and Brandi Carlile--Judge's work keeps right up with them." - Kara Swisher, Co-Producer, and Co-Host of The Wall Street Journal's, D: All Things Digital. www.sarajudge.com
---
And now, a little bit about PianoFight!
Come by early to grab dinner and drinks before the show! PianoFight has a full kitchen and bar. If you plan on dining, we recommend you arrive 1.5 hours early. Restaurant seating is first come first serve.
PARKING
Street parking is free after 6pm. We're located 2 blocks from Powell BART, numerous muni lines and there are 3 parking lots within 1 block.