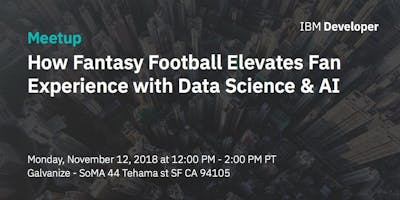 Learn How Fantasy Football Elevates Fan Experience with Data Science & AI
Free food and geeking out over Fantasy Football. Need we say more?
Join IBM Developer for delicious lunch and learn how Fantasy Football uses Data Science and AI build to enhance the fan experience at scale.
IBM Cloud's cutting edge and production ready Artificial Intelligence (AI) algorithms and services are used throughout professional sports and entertainment events.
In this Lunch & Learn, Aaron Baughman, Principal AI Architect and Master Inventor within IBM Interactive Experience, will talk about leveraging multiple regression, deep learning, distribution functions and support vector machines within real-time applications.
We will demo the ESPN Fantasy Football solution and discuss scale and availability considerations.
What are you waiting for? Sign up NOW!
Speaker Bio:
Aaron K. Baughman is a Principal AI Architect and Master Inventor within IBM Interactive Experience focused on Artificial Intelligence for professional sports such as ESPN Fantasy Football, NFL's Atlanta Falcons, The Masters, Grammy Awards, Tony Awards, Wimbledon, USTA, Roland Garros and the Australian Open. He worked on Predictive Cloud Computing for sports that has been published in IEEE and INFORMS. Further, he was a technical Lead on a DeepQA (Jeopardy!) project and an original member of the IBM Research DeepQA embed team.
Aaron holds a B.S. in Computer Science from Georgia Tech, a M.S. in Computer Science from Johns Hopkins, 2 certificates from the Walt Disney Institute and a Coursera Deep Learning certificate. Aaron is an 3-time IBM Master Inventor, IBM Academy of Technology member, Corporate Service Corps alumni, a lifelong INFORMS Franz Edelman laureate and a AAAS-Lemelson Invention Ambassador. He has 86 patents with over 150 pending. Aaron published a book with Springer titled "Multimedia Data Mining and Analytics" based on ACM Multimedia Data Mining workshops.