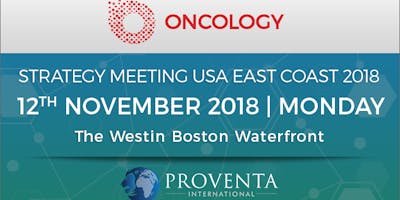 Oncology Strategy Meeting US East Coast 2018
Proventa International's unique format of Oncology Strategy Meeting US East Coast 2018 gathers seasoned local and global business leaders in an exclusive discussion where c-level executives share knowledge and insights on key strategic challenges. This year's Oncology Strategy Meeting will be held at The Westin Boston Waterfront in Massachusetts on November 12, 2018. For more information, visit https://proventainternational.com/oncology-strategy-meeting-us-ec-2018/ .
Who should attend? This strategic meeting is designed for Executives in charge of Oncology R&D,Translational Research/Development/Medicine, Clinical Research/Development, Immuno-Oncology, Medical Affairs Oncology,Clinical Pharmacology,Oncology Clinical Biostatistics and Programming, Oncology Clinical Genomics and Computational Biology, Oncology R&D Innovation, Oncology R&D Strategy, Oncology Portfolio/Project Management.
Submit your interest to attend, sponsor or partner!
Delegate Registration: kmj@proventainternational.com
Sponsorship Opportunities: info@proventainternational.com
Media Partnership: jp@proventainternational.com
To see other strategy meetings near you, please visit https://proventainternational.com/strategy-meetings/.