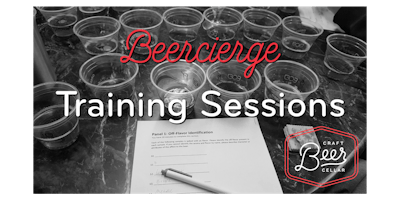 Beer Training Sessions
Want to establish a better base for Beer Styles and overall, increase your #BeerIQ? You should consider joining our Monday Night Training Sessions, where we'll work hard on overall beer ingredients, flavor, aroma, key descriptions and how to articulate them to a group of your peers. We'll write both short & long descriptions for unknown beers, identify, compare & contrast beer styles that are similar and correctly identify a up to six unknown, but classic beer styles. We may spike beers, talk about the aroma & flavor characteristics, what causes it, how to avoid it and what styles it might be appropriate in. 
Overall, if you're looking to deepen your beer knowledge, begin a beer certification or education program or are just entering the industry, this is a great place to start and is a safe space for beer learning. 
*CBC's Society of Master Beercierge is located on the lower level, of 85 Leonard Street, underneath The Wellington Eatery, Belmont Books and Dirdriks. Please enter through the backdoor! Take the stairs or elevator down one level, enter the door to the left and head down the hallway.*