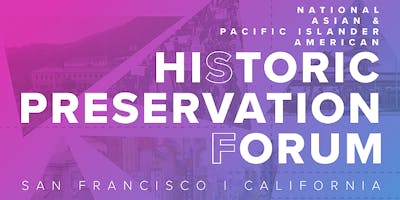 APIAHiP 2018 National Historic Preservation Forum
CONNECT.  INSPIRE. PRESERVE.
Asian & Pacific Islander Americans in Historic Preservation (APIAHiP) invites you to join us at the 2018 National APIA Historic Preservation Forum, held on November 11-13, 2018 in San Francisco, CA.
At this forum, we celebrate the debut of the National Parks Service's Asian American Pacific Islander National Historic Landmarks Theme Study. Initiated in 2013 by then-Secretary of the Interior Kenneth Salazar, the theme study will be a guiding instrument in preserving APIA cultural and historical sites that will hopefully encourage the nomination of APIA-related sites into the National Historic Landmarks program.
With the themes study in hand, the 2018 Forum is designed to address the need to support historic and cultural preservation efforts that are important for APIAs by bringing together experts in preservation, community development, history, and the arts with community groups, practitioners, and students.
At our 5th biennial gathering, we will highlight the diversity of APIA history and historic preservation efforts in San Francisco and throughout the US with local, state, and federal partners. Attendees will enjoy educational panels, advocacy training, tours of historic sites and neighborhoods, film screenings, and group discussions about the diverse stories of APIAs in US history and in historic preservation efforts.
For additional information on the forum and about APIAHiP, please see the website at www.apiahip.org. 
SPONSORSHIP OPPORTUNITIES
Asian & Pacific Islander Americans in Historic Preservation (APIAHiP) invites sponsorship for the 5th Biennial National APIA Historic Preservation Forum in San Francisco on November 10-14, 2018. We are seeking support toward scholarships and conference needs. We will recognize various levels of patron support and appreciate your consideration. 
For more information and to sign up as a sponsor, please click here.
GROUPS
For those traveling with a large group, please contact the Registration and Outreach Co-Chairs Christina Park (christinajpark@gmail.com) or Jason Sarmiento (ajsarmiento@ucdavis.edu).