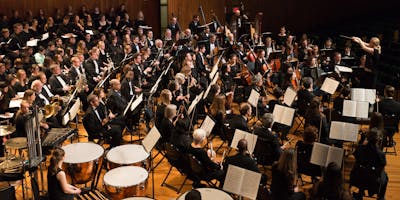 2018 - 2019 Season Subscription
Please join us as we celebrate our 44th season!
A Full Season Subscription provides you with access to all of our ticketed concerts*:


West Side Story: In Concert - Sunday, November 11, 2018 @ 4PM;


Holiday Pops - Saturday, December 8, 2018 @ 7PM;


Family Concerts: The Little Enginge That Could - Sunday, January 27, 2019 @ 2PM OR 4PM;


Heroes and Angels - Sunday, March 17, 2019 @ 4PM; and


Dancing with Demons - Saturday, June 15, 2019 @ 8PM.


*Please note that our Pops on the Lawn concert (Sunday, June 23, 2019 @ 3PM) is free to attend and is not a ticketed concert.
Patrons will receive specific tickets for each concert approximately one week prior to the concert (or as soon as possible if purchased the week of the concert).
By purchasing a Full Season Subscription, you will save $20 on adults tickets and $15 on students / seniors tickets. Buy your Full Season Subscription today!
Locations:
West Side Story, Heroes and Angels, and Dancing with Demons - Kresge Auditorium at MIT (48 Mass. Ave, Cambridge, MA 02139)
Holiday Pops and Family Concerts - The Center for Arts at the Armory (191 Highland Ave, Somerville, MA 02143)
Pops on the Lawn - Danehy Park (

99 Sherman St, Cambridge, MA 02138

)