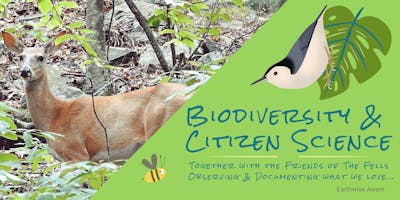 Fells' Biobliss » Biodiversity & Citizen Science
The series fosters awareness of species and habitat biodiversity, and develops an understanding of the importance of ecology, phenology, ethics while helping science through citizen science. Over the year, we rotate the events among different Fells' habitats that we observe and document for the Fells and its scientists. 
The series is run monthly on a Sunday morning. A biobliss happens rain or shine, but heavy rain, thunder or low temperatures cancel the event. ⚠️ Each biobliss is an RSVP event and are limited to 10-12 participants, so join today! By having small size events we can have a quality experience while not overwhelming the habitats that we are protecting. A few days prior to a biobliss event, we email to the registered participants the exact meeting point and instructions about what to bring.
Age: Teens (14+) | Adults | Seniors.
ⓘ Instructions
Weather: Event will happen Rain or Shine, although Lightning cancels.
What to Wear: Be prepared to hike a little to get to our study area. The Fells are a little piece of wildlife in our city and a beautiful forest. So...



Make sure to wear long pants, and preferably long shirts (and avoid ticks, bites & scratches), and good sturdy shoes.



Bring some insect repellent (eco-friendly preferred).



Sunscreen for the sunny areas (eco-friendly preferred).



Dress warmly if chilly!


What to Upload:
Think about downloading the iNaturalist App on your phone prior to the event, as we might record a few of observations on our iNaturalist dedicated project (named 'EwA at the Fells'). Easy explanations are given in our Biobliss activity >> Documenting Species in a Nutshell
What to Bring:



Please bring your own water and snacks. This event is about Nature so that we protect it better. Then naturally we won't provide single-usage bottles of water or anything plastic-wrapped snack.



Don't forget your smart device, or bring a camera if you're not using your phone (making sure that the GPS location will be registered for later recording on the science platforms we use).


There are no restrooms in the area that we will be surveying.  
This series is part of the 'EwA at the Fells' program –a collaboration between Earthwise Aware and The Friends of the Fells. Learn more about this program » https://www.earthwiseaware.org/ewa-at-the-fells/
For any question, you can contact us at learning@earthwiseaware.org
#nature #ecology #phenology #biodiversity #mapping #monitoring #science #citizenScience #conservation 
Thanks!