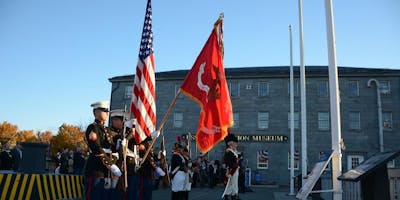 LT William S. Bush Memorial Breakfast
Join us Monday, November 12, 2018 at 8:00am for Morning Colors in front of "Old Ironsides" on Pier 1, followed by breakfast at the USS Constitution Museum.
The LT William S. Bush Breakfast will feature guest speaker GEN Richard "Butch" Neal, USMC (Ret.). GEN Neal has commanded at every level of the Marine Corps over 36 years of distinguished service. Born in Hull, MA, he joined the Marines in 1965 and served two tours of duty in Vietnam. He was the Deputy Director of Operations during Desert Storm and was ultimately promoted to four-star general as Assistant Commandant of the Marine Corps. He shares the lessons learned over his long career in his recent memoir, What Now, Lieutenant?: Leadership Forged from Events in Vietnam, Desert Storm and Beyond. The title comes from the crucial event of his life: a six-hour firefight in March 1967 when his company was attacked by over 700 Vietnamese soldiers near Con Thien. When his company commander was fatally wounded, Neal, a 24-year-old lieutenant, was suddenly in charge. "Everything that happened to me after that day is now seen through that prism," Neal has said.
---
About the LT William S. Bush Memorial Breakfast
To honor the memory of LT William S. Bush, the first US Marine Corps officer to die in the War of 1812. During USS Constitution's battle with HMS Guerriere, the ships exchanged cannon fire until they collided and their rigging became entangled. LT Bush raced to lead his men on board Guerriere, but as he turned to ask Captain Isaac Hull, "Shall I board her?", he was shot down by the British. Two centuries later, Constitution and the US Marine Corps continue their honorable service to our country. The USS Constitution Museum serves as the memory and educational voice of "Old Ironsides" and ensures that her stories, including those of the US Marine Corps and LT Bush, are preserved and shared with future generations.
Questions? Contact Allison Gamble at agamble@usscm.org or 617-426-1812 ext 108.