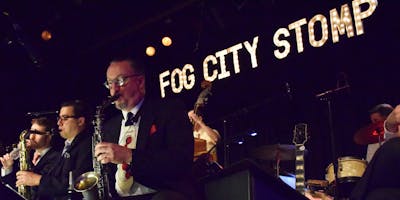 Fog City Stomp 2018
Fog City Stomp is back with fantastic Lindy Hop and solo jazz classes, wild competitions, and swingin' live music each night! Individual dance tickets available at the door until we sell out.
Solo Jazz instructors
- LaTasha Barnes
- Felix Berghäll
Lindy Hop instructors
- Laura Keat & Jeremy Otth
- Anaïs Sékiné & Aleix Prats Ferrer
- Ann Mony & Ryan Calloway
Live music
- Clint Baker's Golden Gate Swing Band
- Jonathan Stout & his Campus Five, feat. Hilary Alexander
- The Jen Hodge All Stars
Competitions
- Amateur Social (have not placed top 3 in any Lindy competition)
- Open Social
- Invitational Social
- Solo Jazz
- Half & Half (solo jazz and Lindy Hop)
Check out some music and performances from past years: our 2016 invitational social; the 2017 half & half, an unconventional contest where we ask dancers to blend solo jazz and partnered lindy hop into their spotlights, all while maintaining an improvisational spirit; the scorching 2017 Midtown Stompers performance with musicality shining amongst their clean lines, crisp formations, and sweet air; a 2015 panel on building community; and live music from 2016 by Clint Baker's Golden Gate Swing Band, led by Clint Baker, the foundation of our music program from the very first year.