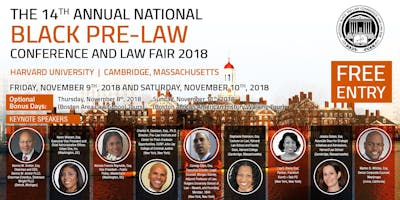 The 14th Annual National Black Pre-Law Conference and Law Fair 2018 Sponsored by AccessLex Institute
The National Black Pre-Law Conference and Law Fair is the nation's premier information-sharing and networking empowerment event for aspiring Black lawyers! Celebrating 14 years of empowering and inspiring aspiring Black lawyers!
#blackprelawconference #aspiringblacklawyers #nationalprelawdiversity #blackprelaw #futureblacklawyers
FREE REGISTRATION INCLUDES THE FOLLOWING BENEFITS: 
•    Complimentary Continental Breakfast 
•    Major Plenary and Keynote Sessions Featuring Prominent Keynote Speakers, Special Guest Speakers, and Student Organizational Leaders

•    Panel Discussions on Law School Admissions, the Black Law Student Experience, Game Changers Panel (Professionalism, Etiquette and Mandatory Soft Skills), and Black Lawyers as Difference Makers
•    Workshop Sessions on Applying to Law School: A Strategic Approach, Financing Legal Education and The Law School Personal Statement and Diversity Statement, and Standardized Testing: The LSAT and the GRE

•    Mock Law School Admission Test (LSAT) Administration
•    Mock Law School Class Conducted by an Actual Law Professor at Harvard Law School
•    Law School Recruitment Fair Featuring Over 100 Law Schools 
•    Special Question & Answer Session with Harvard Black Law Students Association (HBLSA) Members
•    One-on-One Consulting/Pre-Law Advisement and Practical Assistance Session
•    Attorney-Led Career Networking Round Tables/Small Group Discussions
•    Small Groups/Teams and Accountability Partnership Pairing Opportunities
•    Informal and Structured Networking Opportunities/Making Connections Social Receptions
•    Membership in the National Black Pre-Law Conference Virtual Community/Facebook Group/Basecamp Group/GroupMe
•    The Pursuit of Justice Awards & Aspiring Lawyers Pinning Ceremony
•    Free Conference Strategy Booklet and Sponsorship Guidance Booklet 
•    Group Photos with Professional Attire AND with "I AM WHAT AN ASPIRING LAWYER LOOKS LIKE" T-Shirt  
•    Free Digital Official Souvenir Program Guide (E-mailed prior to the event)

•    Special Branded Tote Bag
•    Complimentary Resources and Giveaways
•    Complimentary Professional Headshots
•    Optional Bonus Day: Pre-Conference Tours of Boston Area Law Schools
•    Optional Bonus Day: Post-Conference Tour of Boston and/or African American/Black Heritage in Boston Tour (must pay for your own tour ticket and meals)
 ***National Pre-Law Diversity Initiatives, Inc. and the National Black Pre-Law Conference and Law Fair are not affiliated with Harvard University, nor is The National Black Pre-Law Conference a Harvard University program or activity.***
SPACES ARE LIMITED. PLEASE NOTE THAT THIS EVENT IS FOR PRE-LAW STUDENTS, THEIR ADVISORS, AND THOSE BRINGING THEM TO THE EVENT ONLY. IF YOU COME WITH THE INTENTION TO SELL GOODS OR SERVICES TO PRE-LAW STUDENTS, PLEASE CONTACT US REGARDING EVENT SPONSORSHIP. OTHERWISE, YOU WILL BE ASKED TO LEAVE. WE WOULD LIKE TO PROVIDE THE SPACE AND RESOURCES SPECIFICALLY TO ASPIRING LAWYERS. IF YOU ARE A LAW STUDENT OR LAWYER, YOU CAN ATTEND IF YOU AGREE TO SERVE AS A VOLUNTEER TO ASSIST WITH THE EVENT. LIMITED SPACES FOR VOLUNTEER OPPORTUNITIES ARE AVAILABLE. PLEASE E-MAIL US AT INFO@BLACKPRELAWCONFERENCE.ORG FOR FURTHER INFORMATION. THANK YOU IN ADVANCE FOR YOUR COOPERATION.