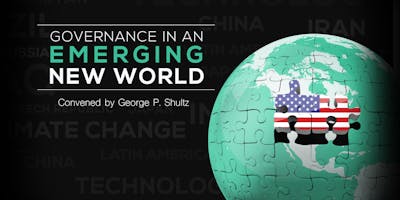 Governance in an Emerging New World, convened by George Shultz (Fall 2018)
George P Shultz's project of Governance in an Emerging New World explores the challenges and opportunities for our democracy, our economy, and our security posed by emerging technologies and societal changes.
Public panels to take place at Stanford campus on October 3rd, October 29th, November 13th, and December 3rd.

New and rapid societal and technological changes are complicating governance around the globe and challenging traditional thinking. Demographic changes and migration are having a profound effect as some populations age and shrink while other countries expand. The information and communications revolution is making governance much more difficult and heightening the impact of diversity. Emerging technologies, especially artificial intelligence and automation, are bringing about a new industrial revolution, disrupting workforces and increasing military capabilities of both states and non-state actors. And new means of production such as additive manufacturing and automation are changing how, where, and what we produce. These changes are coming quickly, faster than governments have historically been able to respond.
Led by Hoover Distinguished Fellow George P Shultz, his Project on Governance in an Emerging New World aims to understand these changes and inform strategies that both address the challenges and take advantage of the opportunities afforded by these dramatic shifts.
The project will feature a series of papers and events addressing how these changes are affecting democratic processes, the economy, and national security of the United States, and how they are affecting countries and regions, including Russia, China, Europe, Africa, and Latin America. A set of essays by the participants will accompany each event and provide thoughtful analysis of the challenges and opportunities.
October 3, 2018, 3:30–5:00 pm: Russia in an Emerging World
Faced with an aging and shrinking population and a weak economy, Russia's future appears uncertain. Participants will explore how Russia is taking on the challenges posed by an aging and declining population and attempting to exploit the economic and military potential of advancing technologies.
Moderated by Kori Schake, International Institute for Strategic Studies
Panelists:
- David Holloway, Freeman Spogli Institute at Stanford University
- Stephen Kotkin, Princeton and Hoover Institution
- Michael McFaul, former US ambassador to Russia
- Maria Smekalova, Russian International Affairs Council
October 29, 2018, 3:30–5:00 pm: China in an Emerging World
Even as its economy continues to grow, and it becomes a world leader in technology, China must also contend with an aging, unbalanced population and the information revolution. The discussion will examine China's pursuit of next-generation technologies for economic, political, and military purposes as well as its changing demographics and widespread use—both by individuals and the government—of new means of communications.
Moderated by Admiral Gary Roughead (USN, ret.), Hoover Institution
Panelists:
- Nicholas Eberstadt, American Enterprise Institute
- Elsa Kania, Center for a New American Security
- Kai-Fu Lee, Sinovation Ventures
- Maria Repnikova, Georgia State University
- Stapleton Roy, former US ambassador to China
November 13, 2018, 3:30–5:00 pm: The Information Challenge to Democracy
The communications revolution has surrounded society with information, some right and some wrong, and enabled people to communicate and organize like never before. It gives new dimensions to the old challenge of governing over diversity. Participants will examine the rapid spread of information and means of communicating and suggest responses to the governance challenges posed by social media, fake news, and the decline of confidence in institutions. The discussion will address means to protect the political process against conflict and potential polarization stirred up through social media networks and potential rules of the road to govern information warfare.
Moderated by the Honorable Condoleezza Rice, Hoover Institution
Panelists:
- Niall Ferguson, Hoover Institution
- Joseph Nye, Harvard University
December 3, 2018, 3:30–5:00 pm: Latin America in an Emerging World
Foreign policy starts in the neighborhood. Mexico, Central America, and South America are at the tail-end of decades of rapid workforce growth, a period during which migration was central to their relationships with the United States. The panel will address how a tighter labor supply, alongside new means of production, will affect the economic development of our southern neighbors. It will also consider whether the public transparency offered by new forms of communications can improve governance, and with it, growth. What can domestic governments across the region—and the United States—do to help take advantage of these emerging transformational opportunities while avoiding potential pitfalls?
Moderated by Pedro Aspe, former secretary of finance of Mexico
Expected Panelists:
- Richard Aitkenhead, former minister of economics and minister of public finance of Guatemala
- Silvia Giorguli, president of El Colegio de México
- André Lara Resende, former director of the Central Bank of Brazil and president of the Brazilian Development Bank
For essays by each topic's authors, and for event livestreams, please visit www.hoover.org/governanceproject approximately one week in advance of each event.
Seating capacity may be limited. If you need a disability-related accommodation or wheelchair access information, please contact: Sheila Sanchez/Diversity and Access Office at (650) 725-0326 or email: sheilas@stanford.edu. Requests should be made at least one week in advance of each event.