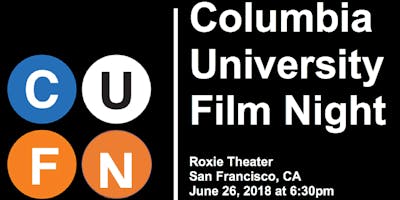 Columbia University Annual Film Night 2018
Columbia University, Columbia Alumni Association ("CAA"), and the Northern California Chapter of CAA are proud to present Columbia's 2018 Annual Film Night at the Roxie Theater, the oldest continuously operating movie theater in America! All students, alumni, friends, and families are invited to share this special evening with us.
The schedule for the Annual Film Night is as follows:
5:00 - 6:45 pm
 - Pre-reception at Bar Pancho located @ 
3198 16th St, San Francisco, CA 94103. 
6:45 - 7:00 pm
 - Welcome & Introduction
8:30 - 9:00 pm
 - Q&A with Professor Jack Lechner
This year, we have the honor to present the following six 2018 Jury Selects at the Annual Film Night:
Tail End of the Year (23 min.)
Writer/Director: 
Chieh Yang
Curandera (16 min.)
Writer/Director: 
Mauricio Rivera Hoffmann
Refuge (10 min.)
Writer/Director: 
Federico Spiazzi
Co-Writer: 
Fernanda Frotté
Producer: 
Federica Belletti
Our Albertinia (21 min.)
Writer/Director:
Chantel Clark
Baby (14 min.)
Writer/Director:
Thais Drassinower
Nice Talking to You (20 min.)
Writer/Director: 
Saim Sadiq
Writer/Producer:
Joseph Capotorto
The event will begin with an introduction. A Q&A session will immediately follow after the film presentation. 
Jack Lechner, Associate Professor at Columbia's School of the Arts, will be available to share his personal insights and address specific questions from the audience during the Q&A session.
Columbia's Annual Film Night highlights the award-winning work of Columbia film students. Selected by major film festivals around the country, our Annual Film Night showcases the talent and creativity of Columbia students and alumni.
Tickets are required for this event.
Tickets for general admission cover your entrance at Roxie Theater.
Tickets with pre-reception package cover your entrance at Roxie Theater as well as drinks and hors d'oeuvres at our pre-reception, which will take place at Bar San Pancho, Mezzanine Bar (3198 16th St, San Francisco, CA 94103) from 5:00pm – 6:45pm. Due to capacity limit at Bar San Pancho, only a limited set of tickets are available for sale.
If you have any questions, please contact our main organizer, Mr. Alex Chan, at alex@datanovo.com.