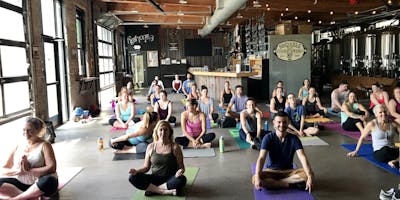 Cider Salutation: Yoga at Sociable
The hour-long Vinyasa class will be lead by instructor Sofia Lorraine. Sofia strongly believes that yoga is for everyone, and teaches with the intention to make class accessible to all skill levels.  Beginners and advanced are all warmly welcome! 
The $20 entry fee includes a 1 hour yoga class + 1 flight of cider. Plus, every Sunday our resident food truck Red River Kitchen will be cooking up some delicious brunch menu's that will be accompanied by cidermosas and cider bloody's. We hope your Sunday kicks off Sociable!
Space is limited, pre-registration is strongly encouraged - Drop-ins welcome (as space allows). Mats not provided.
FAQs
Are there ID or minimum age requirements to enter the event?
You do not have to be 21 to attend yoga, however you do have to be 21 to consume our tasty ciders. We do offer a non-alcoholic Root Beer option that can be substituted for the flight of cider.
What are my transportation/parking options for getting to and from the event?
The Sociable Cider Werks Parking lot can accommodate up to 300 cars. Unless the president comes to visit us your parking options are unlimited:)
What can I bring into the event?
You will need to bring your own yoga mat for the class. We do also allow you to bring in your own water bottles and we are able to re-fill water bottles at our taproom.
 How can I contact the organizer with any questions?
You can contact Sociable Cider Werks at info@sociablecider.com with any questions.
Do I have to bring my printed ticket to the event?
It is not necessary to bring your ticket but it may help if there are any technical issues.
WAIVER OF LIABILITY & DISCLOSURE FORM
(Acknowledgement and acceptance of waiver with ticket purchase.)
1. I understand there is an inherent risk associated with any exercise program including my voluntary participation in yoga that may result in injury. The exercises related to yoga will challenge my cardio-respiratory and musculoskeletal systems associated with; the aerobic, anaerobic, strength, power, agility, flexibility and breathing components of the program. I understand and am aware that the components of exercise/yoga are potentially hazardous activities and may cause injury.
2. I acknowledge that I have either had a physical examination and/or have been given permission from my physician to participate in a yoga based exercise program or that I have decided to participate in an exercise program voluntarily and without the approval of my physician and do hereby assume all responsibility for my participation in any exercise/yoga or activity associated with Sofia Lorraine or Sociable Cider Werks. 
3. I certify that I am physically well and suffering from no medical problems, conditions, impairments, diseases, or any other illness that would prevent my full participation or increase my risk of injury and/or illness as a result of partaking in any exercise/yoga program or other activities or workshops.
4. I, my heirs, or legal representatives, do hereby forever waive and release Sofia Lorraine & Sociable Cider Werks, its members, teachers, agents and employees from any and all liability and responsibility from injury, accident, illness, legal and medical fees sustained now or in the future resulting from my participation in any exercise/yoga activity, workshops or use of any equipment. 
5. I understand that Sociable Cider Werks may provide an area for personal belongings to be held during class, however, I agree that Sofia Lorraine or Sociable Cider Werks, is in no way responsible for the loss or damage of my belongings while I attend any programs, classes or workshops.
6. I acknowledge that I have read this waiver of liability form. I fully understand its terms and conditions, and understand that I am waiving and giving up my right to sue Yoga With Sofia, its teachers, members, agents and employees. I acknowledge that I am signing this agreement voluntarily, and intend by my signature for this to be a complete and unconditional release of liability to the greatest extent allowable by law.