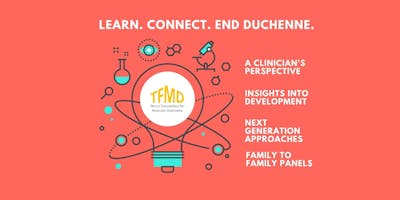 Terry's Foundation: Duchenne Educational Seminar
Terry's Foundation for Muscular Dystrophy is hosting an educational conference on June 24, 2018 for families and individuals impacted by Duchenne muscular dystrophy. The conference will bring families together with experts in the field to talk about clinical developments, standards of care and offer an opportunity to ask questions & learn. The event will offer the opportunity for families to come together and connect. 
AGENDA
Doors Open/Breakfast
8:30AM
Welcome
9:30- 9:45AM
A Clinical and Academic Perspective
10:00 – 11:45AM
Lunch
12:00 – 12:45PM
Industry Therapeutic Developments
1:00 – 2:30PM
Family to Family Sessions
2:45 – 3:45PM
Closing Remarks
4:00PM
SPEAKERS/INDUSTRY EXPERTS

Academic, Clinical & Foundation Experts 
-Brenda Wong MD, MBBS, University of Cincinnati Children's Hospital 
-Louis Kunkel, Ph.D, Boston Children's Hospital 
-Susan Ward, Ph.D, Collaborative Trajectory Analysis Project 
Industry Experts 
-Wave Life Sciences
-Solid Biosciences 
-Pfizer
-Sarepta Therapeutics
-Exonics Therapeutics 
-Capricor Therapeutics
Assistance available for families in need. Please reach out for additional information.