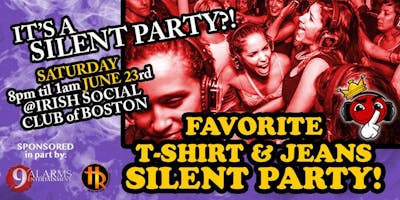 SILENT PARTY - Favorite T-Shirt & Jeans
Come casual wearing your FAVORITE T-SHIRT & JEANS as we get our SOCIALIZE & DANCE on at this June Silent Party event!
3 Djs simultaneously playing live music giving you the option to switch between them at will. Identify what others are listening to via the color of their headphones.
OLD SCHOOL / NEW SCHOOL / CLASSICS / HIP HOP / R&B / POP / REGGAE / SOCA and more!
DJ MOE DEE ~ TEAM BLUE (Classics / Throwbacks)
DJ WADE - TEAM RED (New School / Today's Hits)
DJ STERL DA PERL - TEAM GREEN (Caribbean)
"SILENT PARTIES ARE A BLAST!"
ID Required / Catered to a Mature audience
We provide the headphones
*Online ONLY $10!! - $20 @ Door
GROUPS / PARTIES / TABLE RESERVATIONS WELCOMED
Text/Call 617.600.8642 or 617.888.2730
Sponsored by 9Alarms Ent & HighRaters Ent.
Headphones courtesy of SILENT PARTY KING