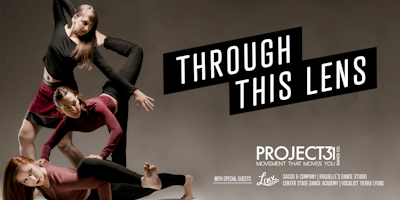 PROJECT 31 in THROUGH THIS LENS
---
THROUGH THIS LENS: PROJECT 31
First Annual Spring Dance Concert at Boston University Dance Theater
Friday, June 22nd, 2018 | 8:00 p.m.
Saturday, June 23rd, 2018 | 8:00 p.m.
Tickets In-Advance:
$18 Students/Seniors/BDA, $20 general admission
Tickets At-the-Door:
$20 Students/Seniors/BDA, $25 general admission
Boston-based PROJECT 31 will make it's evening length debut in THROUGH THIS LENS featuring choreography by Kenzie Finn, Julia Amaral, Rachel Buffer, Kate McShea, Noelle Patten, Lacey Sasso, and special guest choreographer Adrienne T. Hawkins.
Directed by Kenzie Finn, THROUGH THIS LENS will lead you on a journey exploring how perception shapes our situation. Emotions can tangle and obscure the way we see and feel things. With a dynamic soundtrack ranging from popular music to the iconic sounds of Phillip Glass,  PROJECT 31 will delight your ears as we shift your thinking and change your mind. In this evening length performance you'll experience fluid movement, bold technical feats, and subtle pedestrian moments as well as live music and the fierce, feminine hip hop stylings of special guest Linx Dance Company. 
Company Dancers include:
Julia Amaral, Stefany Cobb, Michela Doherty, Aileen Dunn, Kenzie Finn, Sarah Finn, Kate McShea, Lindsey Orgren, Noelle Patten, Lacey Sasso, and Lauren Sylvia.
Special Guests Include: 
Linx, Sasso & Company, Raquelle's Dance Company, Center Stage Dance Academy, and  Vocalist Tierra Lyons.
---
FAQs
What are my transportation/parking options for getting to and from the event?
 The Dance Theater is T accessible via the Green Line St. Paul Street stop. Some street parking is available. We recommend parking in the Aganis Garage on Buick Street.