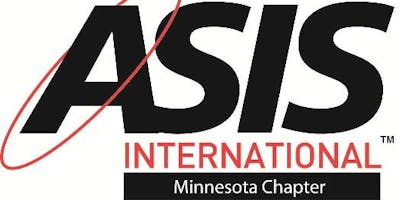 MN ASIS Leadership Conference Registration
Please Join Us For The MN ASIS 2018 Leadership Conference 
The Art of Tactful Self-Promotion at Work
Thursday,  June 21st, 2018
12:00 PM-5:00 PM
DoubleTree by Hilton Hotel Bloomington - Minneapolis South

Schedule:
12:00P-12:20P REGISTRATION 
12:25P-12:30P Opening Remarks
12:30P-12:45P Breaking Free
12:45P-2:00P Keynote Speaker
2:00P-2:15P Break
2:15P-3:00P Break-out Sessions 
3:00P-3:15P Break
3:15P-4:00P Break-out Sessions
4:00P-5:00P Panel-Network-Raffle-Reception
The Art of Tactful 
Self-Promotion at Work 
Tactful self-promotion is a critical competency for all leaders, whether you're:
… a leader wanting to create more visibility for your department and coach your staff;
… interested in expanding your influence and work on your own career mobility;
… in transition, looking for that next opportunity;
… a contractor or consultant looking for work in the gig economy.
Everyone needs to increase their visibility if they want the opportunities, recognition and the rewards that they deserve.
 
You will learn practical strategies for:



Positioning yourself in ways that highlight your value, differentiators and accomplishments




Cultivating strategic relationships and expand your network of influence




Gaining constructive visibility by leveraging social media, especially with LinkedIn, and building an online platform




Promoting your team and your department






This fast-paced, interactive presentation will help even the most reserved to increase their visibility without violating their integrity and values (and without triggering a panic attack!). 



Break-out Session A:  
Shaping Your Personal Brand
Richard Dodson and Nancy Burke
Whether you like the idea of personal branding or not, you already have a brand – it's your reputation.  You might not know what it is, and it might not be the one you want, but you have one.  The process of defining your brand requires a bit of soul searching, but it's worth the effort. 
In this breakout session, we will explore some of the questions that go into developing your brand statement:




What do you want to be known for?




What value do you add for clients and customers?




What benefits do your clients/customers/colleagues receive because of what you do?




What are your unique gifts and talents?




What differentiates you from your peers?



Participants will have a chance to draft and practice a value proposition that can be used for interviews, networking or casual conversations.
Break-out Session B:
LinkedIn Strategies that Will Grow Your Security Business
Carol J. Kaemmerer
LinkedIn is not just for job seekers. A LinkedIn profile is essential for anyone wanting to grow their professional reputation, activities, opportunities and influence. But a poor LinkedIn profile does not serve you well – others seeking your type of expertise may not find you, and those who do find you may not be encouraged to engage with you. As a security professional, it is essential that people view you as trustworthy. You can lay the groundwork for establishing trust through your LinkedIn profile and then proceed to reinforce your credibility and expertise with each interaction. This webinar will show you how.
 
You will benefit from this seminar by learning:



How to be found: the two factors that control where you show up on someone else's LinkedIn keyword search and how to optimize both factors




How to build your "know, like and trust" factor through visual and written aspects of your LinkedIn profile




Effective strategies for communicating your expertise




Specific strategies you can use to keep yourself "top of mind" with your clients and ideal prospects




How to use LinkedIn as a warm communication tool to maintain and enhance your relationship with your clients and prospects





Key Note Speaker:  
Nancy Burke
Nancy has spent the last two decades helping people find their best places in the work world. She grew up in Human Resources roles at Pillsbury, USBank and Jostens followed by an SVP role with Lee Hecht Harrison, a leading global career services firm where she led the Midwest and Twin Cities career transition practices for years. Now, Nancy provides coaching through her company, FuturePerfect, and is also a founder and principal of Burke&Penn, a business that helps people 50+ plan their futures in life and work.




Richard Dodson
Through his writing, speaking and consulting, Richard empowers careerists and entrepreneurs to raise their visibility, unlock opportunities, and earn more recognition and reward. After years as a VP with Lee Hecht Harrison, where he coached more than 1000 clients through tough career challenges, he recently launched Artisan Digital, an agency focused on digital publishing, e-commerce and launching experts into the digital space to increase their impact and income. Richard's career began at age 14 with his first paying job as…a magician!

Carol J. Kaemmerer
Is the author of the book LinkedIn for the Savvy Executive: Promote Your Brand with Authenticity, Tact and Power. She is a popular speaker, coach and corporate trainer who helps businesses and executives leverage the power of LinkedIn to increase their visibility and influence and engage with their ideal audiences. Carol believes that your personal brand – well articulated on LinkedIn – is your best protection against business factors beyond your control.
Specializing in strategies for using LinkedIn as a personal branding and business development tool, Carol has helped brand-name leaders and C-suite executives use LinkedIn powerfully, creating positioning and messaging that reflects their business passion with authenticity. Businesses engage Carol to polish their brand and expand their footprint on LinkedIn, to teach employees at all levels about LinkedIn and online visibility, and to provide one-on-one coaching and profile development for their top executives. When employees look good on LinkedIn, the company looks good too.
WE WILL BE HAVING A RAFFLE FUNDRAISER FOR BREAKING FREE http://www.breakingfree.net/ TICKETS WILL BE AVAILABLE FOR PURCHASE FOR $5.00 THROUGHOUT THE DAY.  CASH, CHECKS AND CREDIT CARDS WILL BE ACCEPTED. 
ATTENDEES
MEMBERS/NON-MEMBERS $75.00
STUDENTS $25.00
ALL REGISTRATIONS INCLUDE THE BOOK 
"Power your Career: The Art of Tactful Self-Promotion at Work"
Thank you to our Sponsors!  

Platinum Sponsors: 
Axis Communications
Panasonic
Parallel Technologies, Inc. 
Gold Sponsors:  
Silver Sponsors:  
Charter Communications
Identisys
US Bank 
Bronze Sponsors:   
​Datastrait

Hanwha