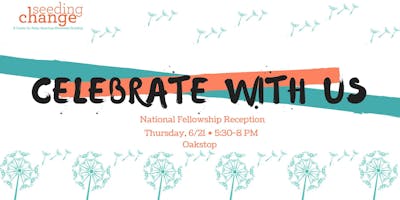 Seeding Change Fellowship 2018 Reception
This summer, the National Fellowship Program for Asian American Organizing & Civic Engagement will bring together 30 fellows to develop their leadership and organizing skills by working in low-income immigrant and refugee communities. The fellowship program runs 8-10 weeks, with all fellows coming together for a week-long orientation and training from June 17-June 23 in the Bay Area before going on to work in grassroots Asian American organizations across the nation. 
This year we are thrilled to be working with 13 host-sites in 11 cities across the country - Asian Americans Advancing Justice- Chicago, Asian American Organizing Project, Asian Americans United, Asian Pacific Environmental Network, CAAAV: Organizing Asian Communities, Cambodian Association of Greater Philadelphia, Chinese Progressive Association - San Francisco, Filipino Advocates for Justice, Hmong Innovating Politics, Khmer Girls in Action, Pilipino Workers Center of Southern California, VietLead, Southeast Asian Coalition, and North Carolina Asian Americans Together.

Please join us on Thursday, June 21st from 5:30 pm to 8 pm for our annual fellowship reception to welcome the new fellows and host sites. There will also be a panel discussion about building effective and sustainable Solidarity Models for a Stronger Movement. Speakers to be announced shortly.
Light refreshments will be served.