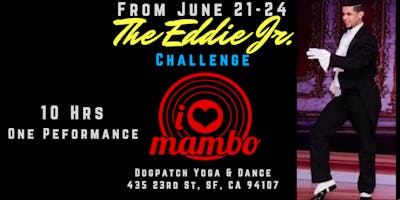 iHeartMambo - The Eddie Jr. Challenge June 21-24t - San Francisco
Eddie Torres Jr. returns to the Bay, this time he bring us the Eddie Torres Jr. Challenge
A 10 hours bootcamp in which you will learn the classic Mon Ti routine and if you are up to the challenge, you'll perform alongside Eddie Jr and your motivated group members at the iHeartMambo Social.
CHALLENGE PROGRAM:
All classes will take place at Dogpatch Dance and Yoga

• Thursday from 8pm to 11pm
• Friday from 8pm to 11pm
• Saturday from 12 Noon to 4pm
Don't forget to click Going on our event page to get our latest updates: https://www.facebook.com/events/385193625253122/
*ENTRANCE TO IHEARTMAMBO SOCIAL ON SUNDAY IS INCLUDED WITH THIS PASS
NO REFUNDS. TRANSFERS ALLOWED.
Note.
IHEARTMAMBO will also host a Saturday Social on June 23rd in addition to its regular June 24th Social
Social on Saturday will be held at Abada Studio from 9pm to 2am: https://www.facebook.com/events/230130607567010/
The social on Sunday will be held at the Women's Building: https://www.facebook.com/events/385193625253122/