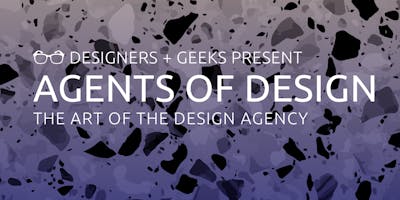 Designers + Geeks: Agents of Design
AGENTS OF DESIGN 
In this episode of Designers + Geeks you'll hear from the creatives behind the agencies driving the best brands and product in the market. In our world, agencies are the guarantors of quality, they are the executors of vision, and the collaborators of our dreams. We'll explore what it means to partner with an agency and look at the impact they are having on the creative market today. 

ABOUT OUR SPEAKERS
AARON POE | Brand Creative Director at ueno
Since 2006, Aaron has worked across a number of sectors, focused on brand development for physical and digital products with clients ranging from global heavyweights to early stage start-ups. This experience positions him at the intersection of technology and culture with a human centered approach to digital design and creative direction.
KRISTIN SKINNER | Head of Design Management at Chase
Kristin Skinner is an author, speaker, teacher, and organization design leader. She is currently Head of Design Management at Chase, a new executive leadership role focusing on Design Program Management, Design Operations, Content Strategy, the Design Playbook and the Design Academy. Her mandate is to define the core operating rhythm for design while managing best practices, processes, and operational needs of the organization.
Kristin is co-author of Org Design for Design Orgs: Building and Managing In-House Design Teams, the first book dedicated to the organization, management, and operations of in-house design teams.
LANCE CASSIDY | Founder of DXLabs

Being able to convey your vision in a clear and inspiring narrative is critical to on-boarding talent, recruiting investors, communicating with customers, and recruiting key partners. However, how often do we take a step back take a step back to think deeply about our moonshots? Join Lance Cassidy, founder of DXLabs, as he speaks about how to apply Futurecasting, a process for identifying your moonshot with science fiction and connecting it with actions you can take today.
Are there ID or minimum age requirements to enter the event?
Yes, this event is 21+, and attendees will need to present a valid ID to join us. It's the beer!
What are my transportation/parking options for getting to and from the event?
Yelp's beautiful office is near the corner of New Montgomery and Mission St, right in the heart of San Francisco. It's easy to get to from BART, many buses, or your ride sharing app of choice. If you need to drive, paid parking is available nearby.
Can I arrive after 8pm?
No!! For building security staffing reasons, we can not let you in after 8pm. We're not joking - if it's 8:00.0001pm, you will be turned away. This really sucks, and we don't want it to happen - please arrive before 8pm.