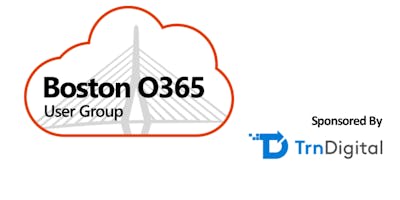 Assembling an Engaging Communications Site with Chris Bortlik
Thanks to TrnDigital for sponsoring this session!

Want to build an engaging Communications Site that leverages the various out of the box capabilities across Office 365? Come to this session to learn how SharePoint Online can be easily extended to integrate with other services across Office 365 including Stream, PowerApps, Flow, Yammer, Forms, Search, and Power BI. The session will be interactive and feature multiple demonstrations focused on common use cases and scenarios. You will leave with practical guidance to help you move forward and a clear understanding of Microsoft's strategy and investments in this area.

ABOUT CHRIS BORTLIK
Chris Bortlik works at Microsoft as a Principal Technical Architect. He works at the Boston Microsoft Technology Center (MTC) with customers and partners in a technical role primarily on Office 365, SharePoint, OneDrive, Yammer, Teams, Stream, PowerApps, Flow, Forms, Office, and EMS. Chris is a SharePoint "Insider" and Office 365 "Ranger" within Microsoft and works closely with various product teams. He holds the SharePoint 2010 MCITP/MCTS and Office 365 MCSA certifications. Chris speaks frequently at Microsoft events (including the SharePoint Conference, TechEd, and Ignite) and has also spoken at numerous other events and user group meetings including being the featured keynote speaker at SharePoint Fest and SharePoint Live! He is a contributing author of the "Essential SharePoint 2010" book and a coauthor of the "Essential SharePoint 2013" book. Chris also blogs regularly on TechNet: http://blogs.technet.com/cbortlik. Prior to joining Microsoft in 2008, Chris was a customer for 14 years working in technical IT architect, development and management roles – primarily leading .NET and SharePoint related projects. You can follow Chris on Twitter @cbortlik