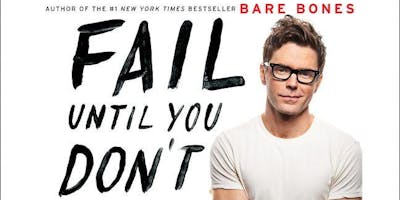 Bobby Bones Signing Event at Brookline Booksmith
THE EVENT

Bobby Bones will be signing his new book, FAIL UNTIL YOU DON'T: FIGHT, GRIND, REPEAT at Brookline Booksmith on Thursday, June 21 at 6PM. Register here for free to attend!
THE DETAILS


The event is signing-only (no talk)


Registration is free


No book purchase is necessary to register


Bobby will begin signing at 6PM and will sign books until he reaches the end of the line


Details on personalizations, photos, and number of books to be signed are TBD and will be updated here and emailed to registrants as they're finalized


If you have a disability or otherwise need accommodation in order to attend, please email us at events@brooklinebooksmith.com


THE BOOK
FAIL UNTIL YOU DONT: FIGHT GRIND REPEAT
The #1 New York Times bestselling author of Bare Bones, host of the marquee morning program "The Bobby Bones Show," comedian and dedicated philanthropist delivers an inspirational and humorous collection of stories about his biggest misses in life and how he turned them into lessons and wins.
as Bobby reveals, a lot of what made him able to achieve his goals were mistakes, awkward moments, and embarrassing situations--lemons that he turned into lemonade through hard work and humility. In this eye-opening book, he'll include ideas and motivations for finding success even when seemingly surrounded by impossible odds or tough failures. He also includes anecdotes from some of his famous friends who open up about their own missteps.
Bobby's mantra is Fight. Grind. Repeat. A man who refuses to give up, he sees failure as something to learn from--and the recollections in this funny, smart book, full of Bobby's brand of self-effacing humor, show how he's become such a beloved goofball.