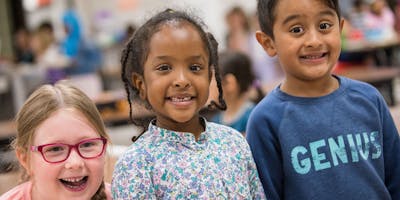 Screen @ 3 Learning Session #6
COME CELEBRATE WITH US!
You are cordially invited to join as our guest at the final session of the Greater Twin Cities United Way ABCD Learning Collaborative - Session 6 (Close The Loop). . .
WHEN: 
Wednesday, June 20, 2018

TIME:
9:00 am – 2:00 pm (Light Breakfast & Lunch Provided)

WHERE:
Bloomington Public Schools (Education Service Center)
1350 106th Street
Bloomington, MN 55431
This learning session will provide an opportunity for participants to share, acknowledge and celebrate the accomplishments made over the past two years. Experiences will be demonstrated and discussed through the use of a "Story Board Parade" and partner presentations. We encourage your attendance as we review and discuss "next steps" for continued growth, improvement and partnership expansion.
---
The event will be facilitated by the following:

Charletta Mosley (ABCD Project Director)
Cindy Hillyer (Lead Advisor)  
Jane Taylor, EdD (Improvement Advisor)
Dr. Jane Taylor is a faculty member at the Institute for Healthcare Improvement. She is a quality improvement expert as well as trainer in a variety of approaches for improving patient and community care http://www.ihi.org/offerings/Training/TCAB/2011NovTCAB/Pages/faculty.aspx
SPECIAL GUEST:
We are excited to have Ann Masten, PHD, LP as our guest speaker. Dr. Masten is a world renowned professor at the University of Minnesota with over 20 years' experience in the field of competence, risk, and resilience in development. She has conducted extensive research surrounding children in war and disaster; Protective influences of relationships, parenting, self-regulation, and motivation with a focus on the processes leading to positive adaptation and outcomes in young people whose lives are threatened by adversity. https://cnbd.umn.edu/bio/cnbd-faculty-staff/ann-masten
For questions or more information, please contact Charletta Mosley, Project Director directly at charletta.mosley@gmail.com.
This project is sponsored by Greater Twin Cities United Way (GTCUW) in collaboration with Bloomington Public Schools, Minneapolis Public Schools, Richfield Public Schools and Hiawatha Academies