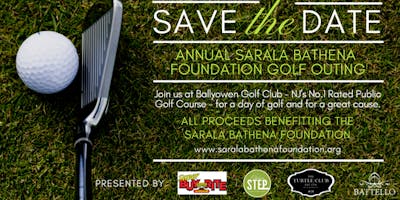 2018 Annual Charity Golf Outing in support of The Sarala Bathena Foundation
We at the Turtle Club, along with Battello Restaurant and the entire Buy-Rite family, are very excited to announce the date of our ANNUAL Charity Golf Outing in support of the Sarala Bathena Foundation  This year we will be returning to the pristine CRYSTAL SPRINGS GOLF COURSE, a beautiful and challenging 27 hole course in the Crystal Springs collection of golf courses located in Hamburg, NJ, on Wednesday, June 20, 2018.  As in years past, all proceeds will be donated to the Sarala Bathena Foundation started by one of our events' founders, Adithya Bathena, in honor of his mother.  Your contributions aid the Foundation in their ongoing commitment to help both individuals and families affected by the personal and financial devastation that goes hand in hand with a cancer diagnosis.   
Those of you who have attended this event in the past know that it is worthy of its reputation as the outing of the year.  That reputation combined with the fact that we have been able to raise over $100,000 for this very worthy cause is a direct result of your generosity via the time and financial contributions you've made in years past.  It is truly a team effort that makes this possible and as such it is our sincere hope that we can count on you to participate this year in any way possible.  If you have not been able to participate in the past, we urge you to please do so this year.  You will not be disappointed and will also be responsible for helping to provide a better tomorrow to those truly in need.  Your past support has allowed us to donate funds to help cancer patients at Robert Wood Johnson Hospital as well as the Red Cross Cancer Hospital in India. The Foundation is also in the process of setting up a scholarship in Jersey City and working with organizations that help at risk youth. 
Please consider participating as a sponsor and as a player.  All contributions are tax deductible.  Participation levels can be found on the following page.