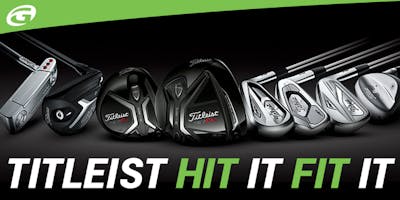 GOLFTEC Minnetonka Titleist HIFI Event
Join Us For Our Titleist HIT IT FIT IT Event!
 GOLFTEC in your area will be hosting an exclusive Titleist Hit It Fit It event in June, and you're invited. 
Hit the brand new line of 718 irons, the 917 drivers and fairways as well as the 818 hybrids. Best of all, you can get fitted and order your clubs on the spot.
718 Irons
BETTER BY DESIGN
Titleist's performance excellence starts with best-in-class R&D. 
They research and refine every product rigorously to their own unrelenting standards. Each new line must be better than the last without sacrificing a single aspect of performance. 
They design and validate every iron in every set individually, allowing them to deliver real performance that you can depend on.
818 Hybrids
A NEW LEVEL OF HYBRID ADJUSTABILITY
818 hybrids have been specifically engineered for maximum custom fitting adjustability in two distinct profiles. SureFit Hosel provides 16 independent loft and lie settings to optimize consistent center-face contact, complemented by the shot-shaping accuracy of SureFit CG.