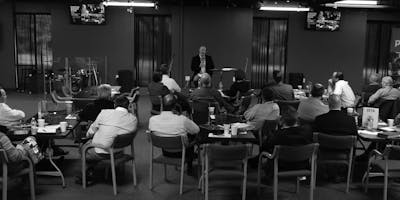 Christian Business Fellowship West Minneapolis Monthly Meeting
CBF is all about relationships. Real relationships. Our small communities of leaders of similar-sized organizations provide you a vibrant peer group. We call them Christian Advisory Boards, or CABs. CAB members enjoy enriching give-and-take; learning while sharing your experience, and encouraging each other to accelerate success. CABs also provide something prized by leaders but rare in the marketplace: accountability.
CBF currently meets for teaching and fellowship once a month at Vertical Church (West Minneapolis) located at 6240 Quinwood LANE NORTH, Maple Grove, MN 55369.
Monthly meetings take place on the third Wednesday of each month with the following itinerary:
8:00 – 8:10 am Announcements
8:10 – 9:10 am Teaching
9:10 – 9:20 am Break
9:20 – 10:30 am CAB Time & Orientation