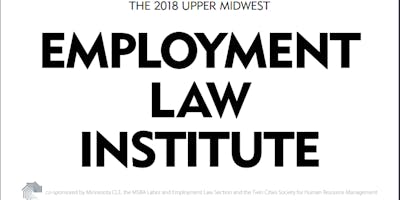 Upper Midwest Employment Law Teachback
US HR Community,
A small group of HRBPs recently attended the 2018 Upper Midwest Employment Law Institute Conference. This is a two day conference that provides HR professionals and employment attorneys with targeted, practical, timely information that is immediately useful in day-to-day work along with helpful resource materials. Some of the topics covered at the conference include: employee screening risks, leave of absence regulations, EEOC developments, discrimination and bias in the workplace, important new state and federal employment law decisions, and more.
This group of HRBPs is coordinating a teachback to share some of the learnings with the broader HR community. We hope this will be an interactive session and a great development opportunity for all HR function associates; content will be relevant for HR, TA, Compensation, etc. The trends discussed will be valuable in keeping you up to date on employment law changes, understand how Ecolab maintains compliance, and explore professional topics of interest.
Snacks will be provided for those attending in person. We hope you can join us!
---
Agenda
1:30 pm – 2:00pm   Welcome from Jana Bjorklund; Quirky Questions in Employment Law
2:00 pm – 3:00pm   Hot Topics Panel (highlights on harassment, workplace violence, I-9 compliance, pay equity, investigations and terminations)
3:00 pm – 3:30pm   Optional Q&A and Networking
---
We will be recording and distributing this content in a future hr brief.