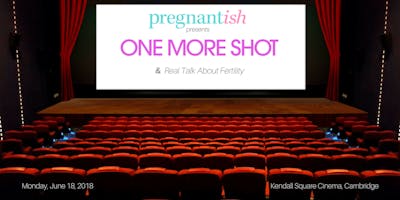 pregnantish Presents: "One More Shot" Film & Real Talk About Fertility
In honor of Father's Day, pregnantish is hosting our debut event in New England on Monday night June 18, 2018 for couples and singles trying to start their families...with a little help.
Join us at Kendall Square Cinema in Cambridge for a screening of the powerful documentary, One More Shot, about one couple's emotional journey towards parenthood.
After the film, hear from our esteemed experts who will share more information on male & female factor infertility, unexplained infertility and managing the fertility treatment process to maximize your chance of success. We'll also cover how to best manage relationships and take care of yourself during this process.
All participants will be treated to popcorn & a drink, the film, the panel and a special gift bag.
This exclusive event has been generously supported by CCRM Boston and CooperGenomics.
Special thanks to RESOLVE New England for the additional support.
This event has limited capacity and WILL SELL OUT.
---
MODERATOR:
Lindsay Kalter
Lindsay Kalter writes a medical column for the Boston Herald, Pulse, covering innovation and public health issues in the Bay State. She got her first taste of health reporting while interning in The Dallas Morning News' lifestyle section, writing about issues from fitness to rare diseases. Kalter came to the Herald in 2014 from Politico, where she covered topics at the intersection of health and technology. She has written about reproductive issues including infertility and the birth of multiples, and did an in-depth report on the lack of regulations behind sperm donation. Kalter grew up in Ann Arbor, Michigan, and attended University of Maryland's journalism school.
PANELISTS:
Andrea Syrtash
Andrea Syrtash is a Relationship Expert and the Founder of pregnantish.com, the first media site exclusively dedicated to helping singles, couples & LGBT navigate fertility treatments and infertility. A regular on-air personality, Andrea's hosted television shows for Oprah's OWN and Fox; and regularly appears as a guest expert on TV and radio shows across the country. She's the author of popular books including, He's Just Not Your Type (And That's a Good Thing) and Cheat On Your Husband (With Your Husband). Andrea frequently speaks about how to improve relationships, most recently at the TEDx 'Makers' Conference. She is committed to breaking the taboo of infertility, and elevating the conversation about what it takes to start a family for millions of people today. Follow her @andreasyrtash or at www.andreasyrtash.com
Jenna Miller
Jenna Miller, MS, LCGC is a board-certified and licensed genetic counselor. She holds a Bachelor of Science degree in Genetics and Biotechnology from Brigham Young University and a Master of Science degree in Human Genetics from Sarah Lawrence College.
Jenna began her career at Recombine providing genetic counseling to patients and physicians. She then moved into clinical diagnostics, eventually leading CooperGenomics' carrier screening clinical diagnostics team. Jenna recently became CooperGenomics' first clinical science liaison. In this role, she travels North America educating healthcare providers about genomics and genomic testing. She is passionate about genomics education, informed consent, and ethical approaches to genomic testing. Jenna lives in New Jersey with her husband and three cats named Kevin, Linda, and Mr. Chunk.
Dr. Aaron Styer
Dr. Aaron K. Styer is a reproductive endocrinologist, founding partner, and co-medical director of CCRM Boston. He received his medical degree from Vanderbilt University School of Medicine and completed residency in the Harvard Integrated Program in Obstetrics and Gynecology at Brigham and Women's Hospital and Massachusetts General Hospital (MGH). He completed a clinical fellowship in Reproductive Endocrinology and Infertility at MGH/Harvard Medical School, and previously practiced at MGH for more than a decade. He is a staff physician at Beth Israel Deaconess Medical Center and Newton Wellesley Hospital and is an Associate Professor of Obstetrics, Gynecology, and Reproductive Biology at Harvard Medical School.
Dr. Styer is nationally recognized for his expertise, research, and invited lectures in elective single embryo transfer, racial/ethnic fertility outcomes, predictors of IVF success, egg donation, and fertility in women with uterine fibroids and endometriosis. He has been named Castle Connolly 2018 Top Doctor in Reproductive Endocrinology/Infertility.

Maya Grobel
Maya Grobel is a California licensed clinical social worker (LCSW) and psychotherapist who specializes in supporting individuals and couples struggling to conceive.  She is a mental health professional member of ASRM (American Society for Reproductive Medicine) and SEEDS (Society for Ethics in Egg Donation & Surrogacy) and feels very passionate about her work with this population.  
Maya and her TV producer husband Noah made a feature length film, One More Shot, documenting their tumultuous journey to parenthood.